Let's talk about how to attract new patients and effectively grow your dental practice.
Generating a steady stream of new patients is essential to the survival of your practice. You may currently have a solid patient base, but you can't rely on your existing patients alone—not if you want long-lasting success. Research shows that most dental practices need to acquire between 15 to 25 new patients each month to remain successful. Although, depending on the size of your practice, you may need to double or even triple that number. And at least 40% to 50% of those new patients should come from referrals.
Without new patients, your practice will become stagnant (at best) or wither away and die. Even the best patients come and go. They move. They try out new dentists. They simply stop coming because they're no longer in pain. Because patient loyalty is never guaranteed, you always need new patients to keep your practice afloat.
Here's what you need to do to attract new dental patients to your practice:
Start With a Strong Online Presence
Most people start their search for a new dentist online. When initiating that search, they are likely to Google a single word, such as "dentists." They may also Google "dentists near me" or "dentists in my area." Because Google is smart, it will use the searcher's IP address to determine the searcher's location. (Learn more about how Google determines a searcher's location here.) This allows Google to show local results to a searcher.
This is where you come in.
When you create a website for your dental practice that's optimized for local searches, you'll attract prospective patients in your area who are currently searching for dentists on Google.
The first step is to create a website for your dental practice. We can help with that! Every website created by Great Dental Website is built with our award-winning, data-driven marketing techniques. Our dental-specific websites have a proven track record of attracting new patients. We've helped over 900 dental professionals (and counting) build effective websites that get results. Learn more about our website services for dental practices here.
After you've created a website, the next step is to create content that attracts and engages your prospective patients. When new visitors click on your website from a Google search, you want them to find valuable answers to the questions they have about your services or their dental health.
To do this, you should add information to your services pages. Do you offer sealants? Your prospective patients may want to learn more about this service. It's a good idea to educate your patients about all that you offer. Not only will this introduce them to new possibilities that they may not know about, but it will also help to gain their trust.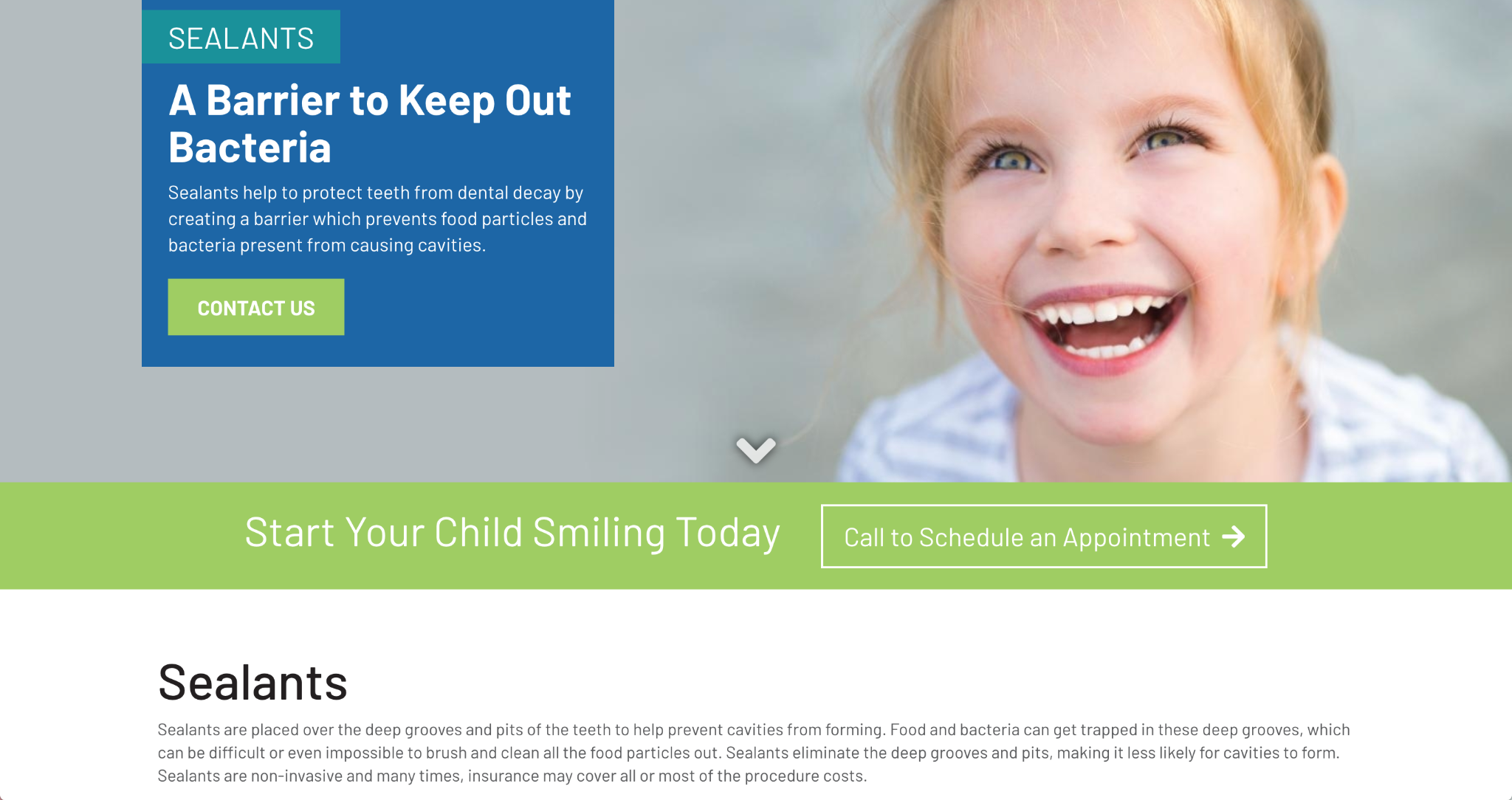 Image courtesy of St. Louis Pediatric Dentistry
The Benefits of Creating a Professional Website for Your Dental Practice
Market Your Practice 24/7 - Your website never sleeps. It's always working to promote your practice.
Educate Your Patients - Your patients will learn more about your practice and the procedures that you offer by browsing your website.
Introduce Your Practice - Prospective patients can "meet" your staff, including your dentists, hygienists, and front office team, which reduces appointment anxiety.
Build Trust - A prospective patient can read testimonials and review your different office policies on your website. This helps them build trust for your practice.
Show Up Online - Having a website increases your visibility online. By having a website, your practice will show up in organic local searches whenever someone looks for dentists in your area.
Connect to Your Marketing - If you plan to market your practice online, you need a website so that you can receive and engage the incoming traffic from your ads.
Claim Your Google My Business Listing
In addition to your website, you should also claim your Google My Business listing.
Google My Business is a free tool from Google that local businesses can use to raise their visibility online. When you claim your Google My Business listing, your dental practice will show up on local Google searches and within Google maps. Google My Business listings show up in a different section on the Google search results pages than regular listings. If you do a quick search for "dentists," you'll likely see ads at the top of the search results page, then a map, then three local results (this is known as the snack pack), and finally the regular listings. The Google My Business listings show in the map and in the snack pack under the map.
Your dental practice can show up in these listings and also in the regular listings below. In fact, you can show up in two or more places on the search engine results page for the same search term. Isn't that cool? Some practices pay for ads, which means that they have the possibility of showing up three times on the same page. (They appear in ads at the top of the page, then in the local 3 snack pack, and finally in the regular results.)
Because there are only a few results per page, the more times you show up on a search results page, the higher your chances are of getting seen by your prospective patients and earning a click.
Learn more about how to claim and optimize your Google My Business listing here.
Add Your Practice to Local Directories
If you notice on the search engine results page, about 50% of the regular listings on the first page aren't websites for local practices. Instead, they're websites for dental directories, like American Dental Association or ZocDoc.
Google shows these dental directories because a sizable percentage of Google users prefer to find practices through these sites. These sites may offer ratings or reviews that help the prospective patient make a decision on which practice to choose.
This is why you need to add your dental practice to these directories. You never know where your new patients will come from. They may come through your website, your Google My Business listing, your ad, or a trusted dental directory.
When adding your practice to a dental directory, be sure that you use the same practice name, address, and phone number that you used on your website and Google My Business listing. This is known as NAP, and it helps Google recognize that every listing (your website, your Google My Business, etc.) is pointing to the same practice.
Get Active on Social Media
The final step to improving your online visibility is to get active on social media. A huge percentage of prospective patients use social media to keep up with their friends and family. But that's not all. Most social media users also follow local businesses. This is why you need your own presence on social media. Your prospective patients are there, so you need to be there, too.
Not all social media platforms are equal when it comes to marketing a local business like a dental practice. You may find a greater return on your time investment by building a presence on Facebook. Facebook has almost 3 billion users worldwide. One out of every 3 people on earth use Facebook, which is staggering to think about. So, it's practically guaranteed that some of your dental practices are also Facebook users.
By creating a business account on Facebook for your dental practice, you can start building your community on this popular social media platform. People can follow your account to get updates whenever you make a new post or run a special promotion.
However, it's important to note that Facebook's organic reach for businesses has declined over the years. Organic reach means the number of Facebook users who can see your post without you paying for promotion. Facebook is a lot more useful if you pay for ads that appear to specific audiences.
And this is truly where the magic happens. Facebook ads are incredible. You can target audiences based on location, behavior, who they follow (i.e., if they follow your competitors), and how similar they may be to your current patients. You can get very specific with who sees your Facebook ads. For example, you can create ads just for the people who've visited your website before.
Increase Your Dental Patient Referrals
Remember earlier, we mentioned that around half of your new patients should come from your current patients? This happens through referrals. But how do you get referrals?
Step one: Hire a friendly staff. With all else being equal (such as services offered and price), your patients come back to your practice because of how they feel in your care. Do they feel valued and respected? Do they feel like you've taken the time to listen to their concerns and explain their options? If the answer is "yes," not only will they come back again, but they'll also eagerly tell others about your practice.
Achieving patient satisfaction doesn't happen by accident. It starts with hiring team members who are not only competent but also warm and enthusiastic. When hiring, look for people who are naturally friendly and welcoming (because it's hard to teach so-called "soft skills").
Then, make it a habit to ask your best patients to refer others to your practice. Some people won't think about it until you ask. Send out an email periodically to your current patients to let them know that you're accepting patients and to refer others to you.
In addition to referrals, you can also ask your patients to leave testimonials on your website. This type of social proof can serve as a powerful endorsement for your practice. Your patients can also leave reviews on your Google My Business profile as well as on social media and in dental directories.
Final Thoughts
To attract new patients to your dental practice, build a strong presence online. Also, ensure that your current patients have a positive experience with your staff. And, last but not least, invite your patients to leave reviews on your website and whenever you're represented online.

Great Dental Websites helps dentists realize the greatest return on their local digital marketing investment through world-class marketing services and an intuitive, dental-specific website management platform. Since 2007, we have designed unique, modern dental websites for over 900 practices in the US, Canada, Australia, and New Zealand.