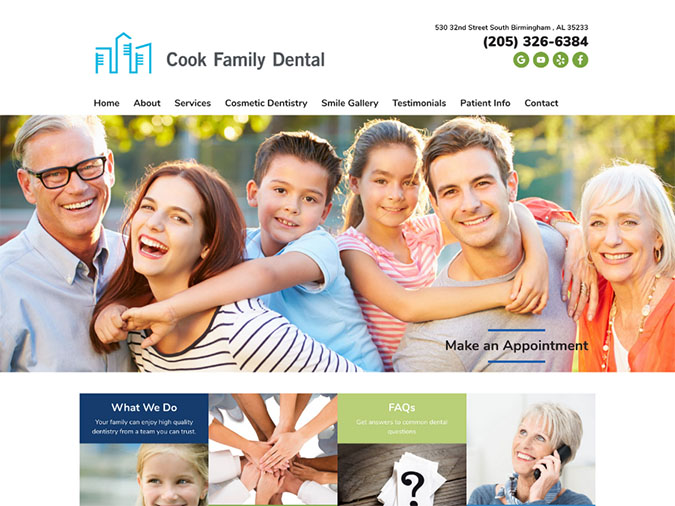 The Simplest Way to Get Started
Template designs are perfect for dental practices on a tight budget or tight turnaround time. We've created dozens of dental website templates that you can sort through to find one that best matches your dental practice without an additional investment.
Extremely Quick Turn Around
Dedicated Project Manager
Why a Template Design is Right for You
Most Affordable Option
A dental website template is included in your startup investment costs. You'll still be able to add your own logo and images, but the main work is already done so you won't have to worry about paying for more.
Extremely Quick Turn Around
A template design can be ready to go within days, not weeks. You'll simply review your options and select the one you think works best for your practice. We'll handle the rest!
Dozens of Options
We currently have around 30 different templates available, each offering several color combinations. We try to release at least 10 new option each year, so if you get bored of your current one, you can always swap later!
Dedicated Project Manager
We can't help you with your patient care, but our patient project manager can guide you through the process to make sure you feel supported from day 1.
Get Started Today
View More Dental Website Template Designs
The last website you'll ever need!
The original goal of the platform was to make it easy for dental practices to maintain their website without hassle. Our platform updates mean your website will only improve over time.

It's like having the dealership come to you for your car maintenance, and upgrading your horsepower and features at no additional cost to you. What's not to love?

Built for Dentists
Every improvement we release is made to make your life easier so you can focus on running your practice
Platform Improvements
Updates and improvements are rolled out to all sites on a regular basis without you having to worry about a thing
Easy to Use
Since every element is built with a dental practice in mind, we've eliminated the "noise" that can website management difficult
Frequently asked questions
Read through related FAQs to get answers to some of our most common questions. If you can't find the answer to your question, please contact us.
Can I reorder the layout of the template designs?
Unfortunately, no. Each dental website template is built to suit the needs of each practice. We have about 30 template designs to choose from, all of which will have different layouts for you to choose from. If you prefer to have more control and flexibility over your design layout, you can easily upgrade to a full custom design!
Can I use my own imagery on my template design?
Yes! If you have high-resolution images available, we will swap in those images into the designated image sections on your homepage. We usually recommend utilizing images of your team, your office, and any technology you have!