Dental Marketing That Actually Works
We get it — you didn't get into dentistry to spend your precious free time marketing your practice and attracting new patients. That's not what you do best, and frankly, your time is better spent providing excellent care to your community.
But that doesn't make your practice's marketing any less important! If you want to get in front of your community and turn website visitors into patients, it's time for a strategic, holistic approach to dental marketing.
Here at Great Dental Websites, that's what we do best. As digital marketing has matured as a whole, so have we. With more than 15 years of experience in the dental industry, we know what works, and we can't wait to bring that expertise to your practice.
Why Dental Marketing Matters
You're likely not the only dental practice in your market. In most cases, you're probably one of many, sometimes one of dozens of practices. How you market yourself can be the difference between surviving and thriving. Not only that, the right dental marketing can help you attract the types of patients that you want to see.
Great dental marketing differs from practice to practice, but at its core, it's all about making your practice visible and creating genuine relationships with your community. Your ability to relate to people in your community directly impacts whether or not your practice will compete with others in the area.
To begin, it starts with:
A modern, user-friendly dental website
An optimized Google My Business profile with recent reviews and up-to-date information
An inviting and personalized social media presence (hint: skip the stock posts and pictures)
These three items form the foundation of your dental marketing suite. From there, you can build upward with a range of marketing tactics. From one-time services including website design or logo creation to ongoing services such as dental SEO and marketing coaching, we're ready to curate a dental marketing strategy that produces results for your practice.
Ongoing Dental Marketing Services
If you're looking to grow your practice, we offer a variety of marketing services to help. Talk to a knowledgeable marketing coach, let us run your SEO campaign, or take part in a customizable social media plan. Mix and match services that best suit your needs and goals.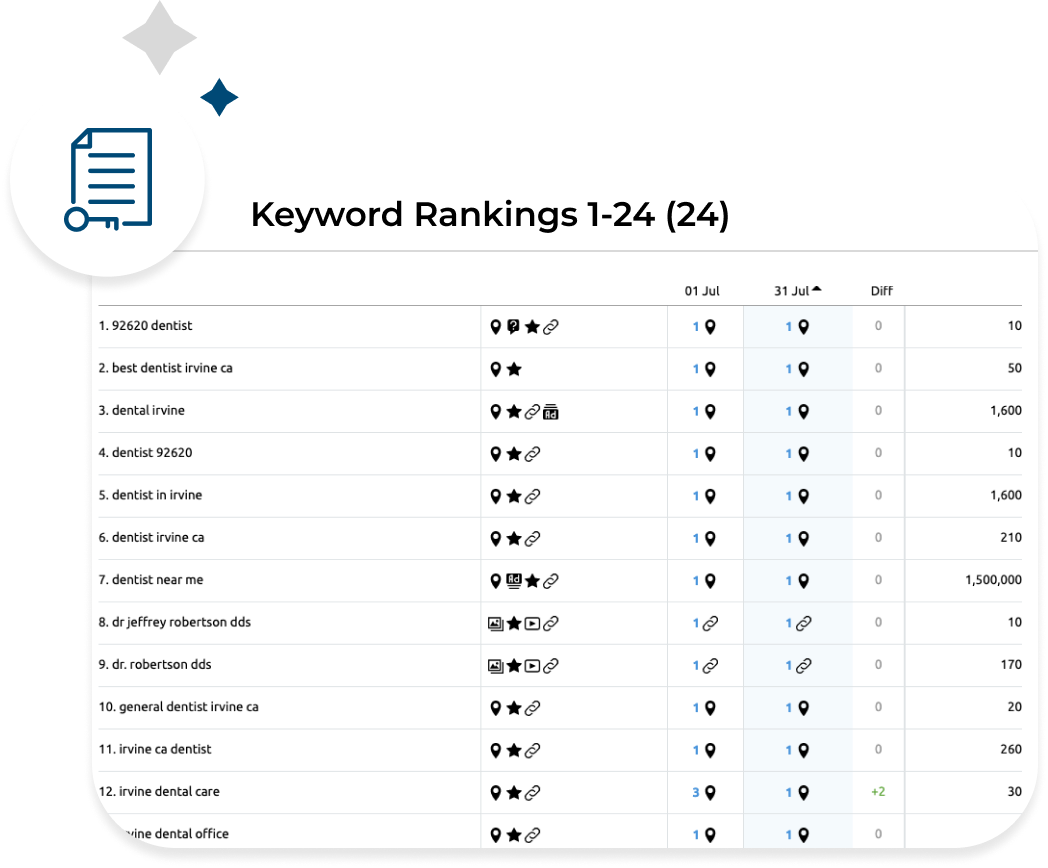 Search Engine Optimization
SEO is not a one-time thing. Yes, foundational optimization, early content, and video production are all crucial in getting your site off the ground — but if you stop there, you won't have near the success you could. Ongoing SEO includes:
Content production that helps you establish authority and credibility in your community
Targeted keyword research that helps you get in front of the right patients
On-site optimizations that ensure your foundation remains intact
Google My Business updates to maintain local standing
Ultimately, SEO done the right way allows you to promote the services that are most important to your practice while providing value to potential visitors along the way.
Paid Search
SEO is a long-term tactic, but what about all those patients looking for a new dentist TODAY? This is where paid search fills the gap. While you continuously build a library of authoritative content and other assets on your site, use paid advertising to immediately fill your hygiene chairs and promote your services.
Get in front of patients searching for popular services or nearby dentists with pay-per-click advertising, or embed an advertisement into the Instagram feeds of local community members with paid social advertising. These tactics make it easy to target specific patients while your organic SEO builds over time.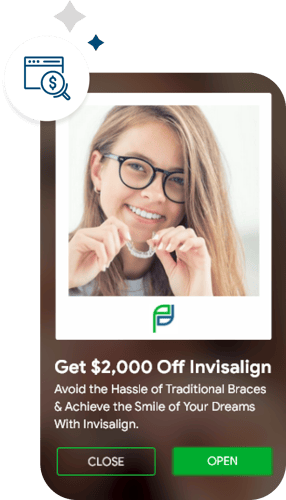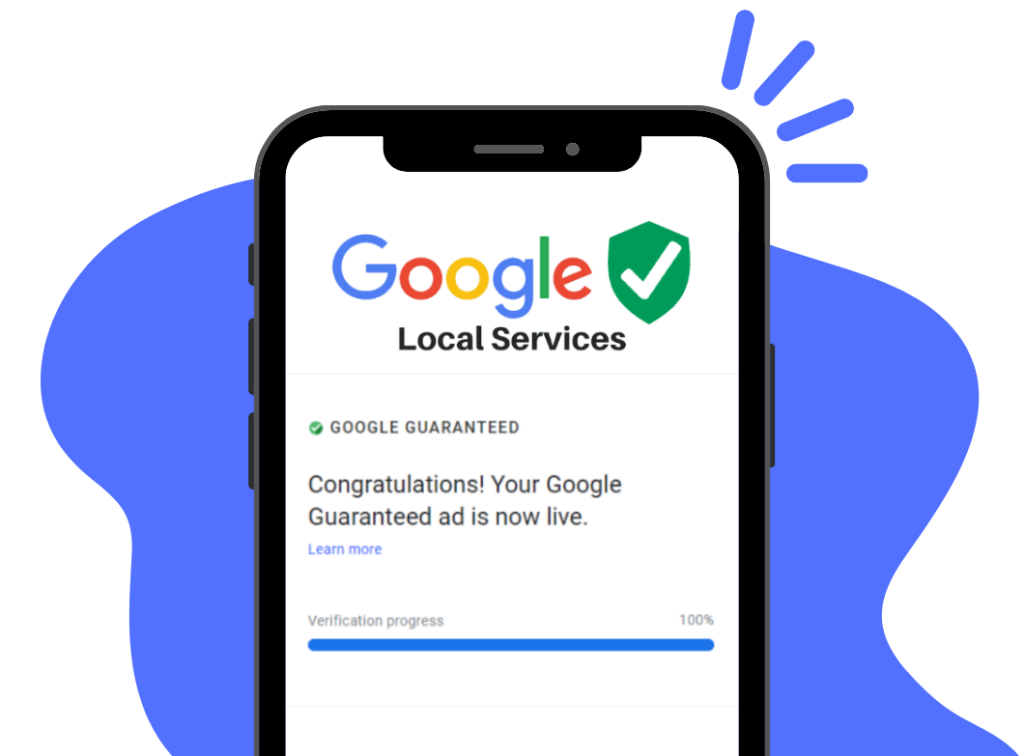 Local Services Ads
Local services ads are a powerful advertising tool for dentists looking to increase their visibility and attract more clients in their local area. One of the main benefits of local service ads for dentists is that they allow you to target potential patients who are actively searching for dental services in their area. This means that your ads are more likely to reach people who are ready to book an appointment and are more likely to convert into paying customers.
Google LSAs are a newer form of advertising for dentists, having just come on the scene in the last few months. If you are looking for a head start on your competition, LSAs might be the perfect match.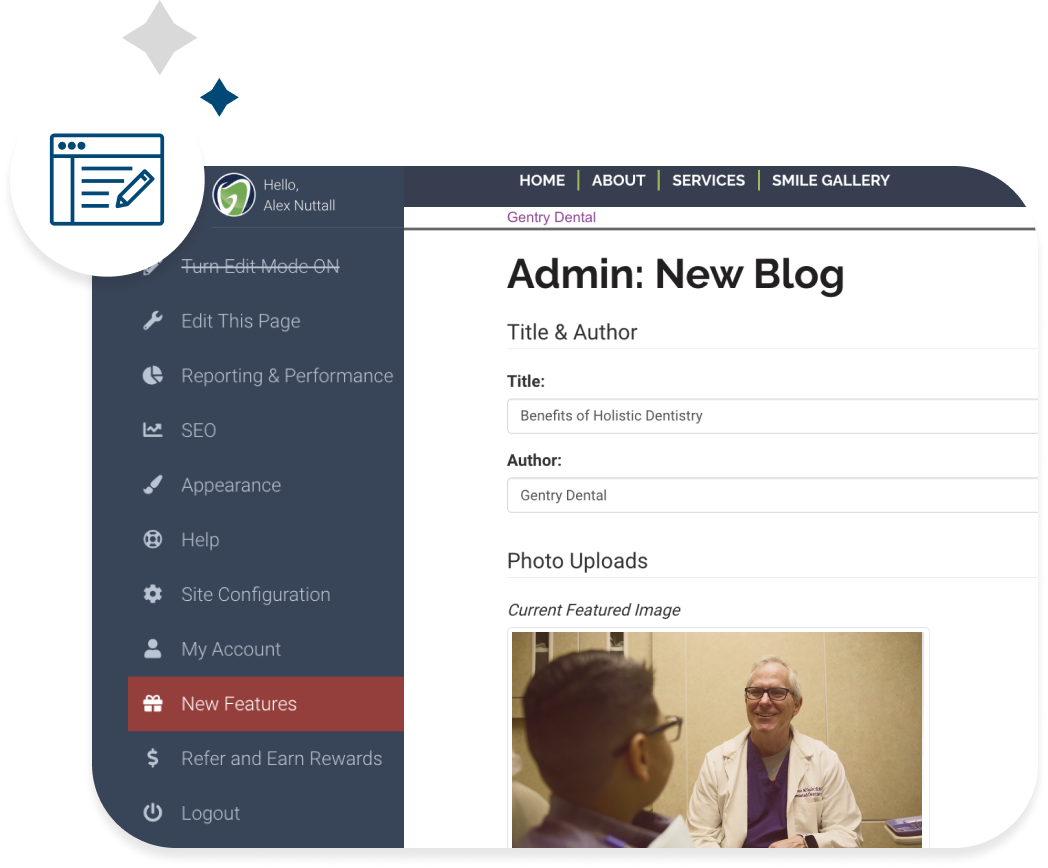 Blogging
When you bring visitors to your website, do you have enough quality content to keep them engaged? Strategic blogging is one of the most popular ways to consistently add relevant content to your website. But that's the catch — it has to be consistent and strategic.
One-off blog posts every month aren't going to cut it for modern content production. Instead, it takes a strategic month-over-month approach to blog production. Done correctly, community members will consistently engage with your blog posts, subscribe to your newsletter, and find more value on your website than they ever could have imagined.
Social Media
Moreso than ever before, social media presents an opportunity for you to engage with your community members. Trust us — nobody wants to see boring stock photography and overused quotes on their feed.
But video snippets that showcase your team's personality? Patient-of-the-month testimonials? Before-and-after photos that allow you to prove your capabilities? Those are the things that will create real engagement and bring people through your doors.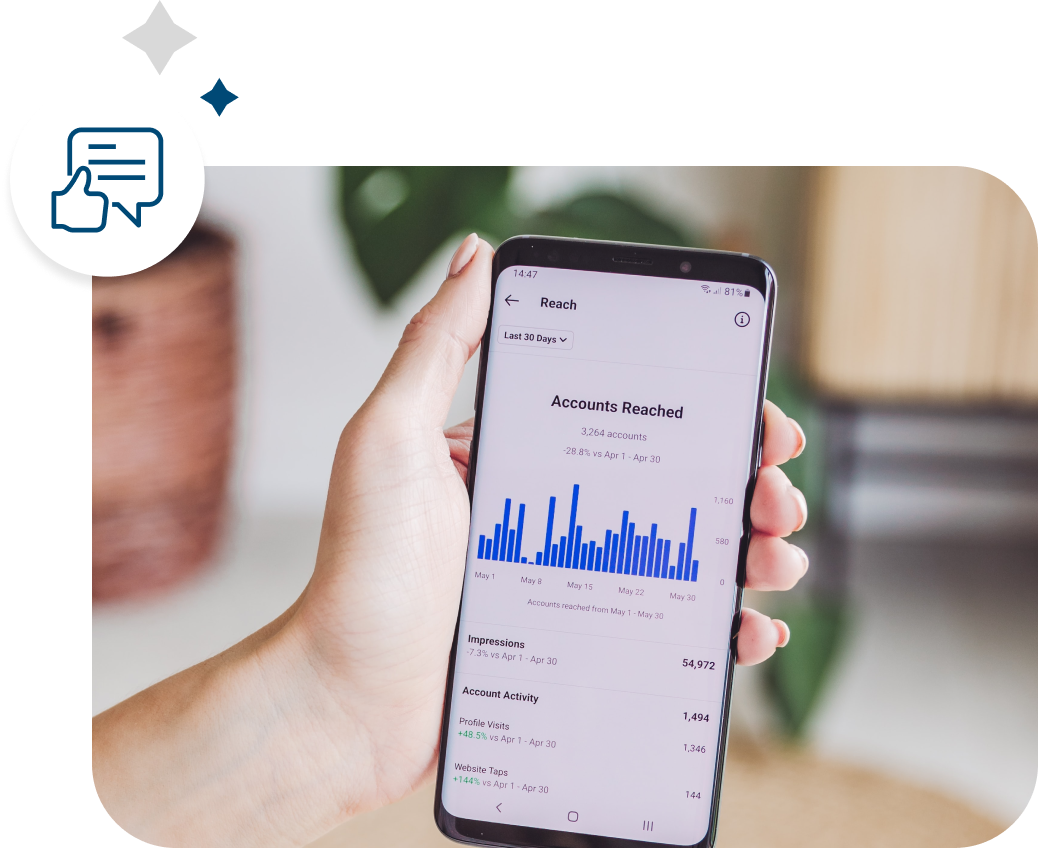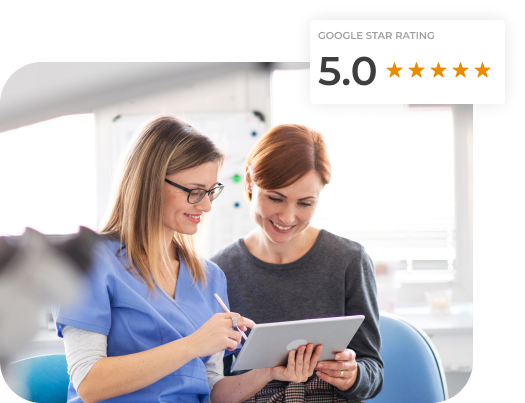 Reputation Management
No matter how great you think your practice is, your patients' perception is your reality. Online reviews are one of the first things that potential patients will investigate when selecting their next dentist. If they see minimal engagement with previous patients, or if your listing is littered with negative reviews, you'll struggle to land new business.
By encouraging reviews from current patients, and addressing problematic experiences early and publicly, you can build a reputation that others trust.
Marketing Coaching
While we love handling your dental marketing for you, it's also important for us to set you up for success whenever you decide to move forward. That's why we prioritize marketing coaching as an integral part of our engagements.
Our best-performing clients have one thing in common — practice participation. Learn how marketing coaching can help you stay on track and understand how your dental marketing performs so you can maintain the success that we help you establish.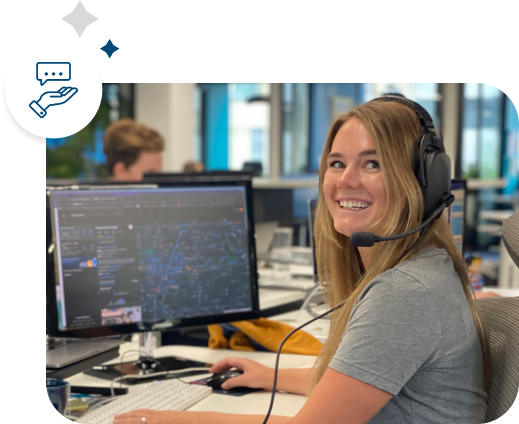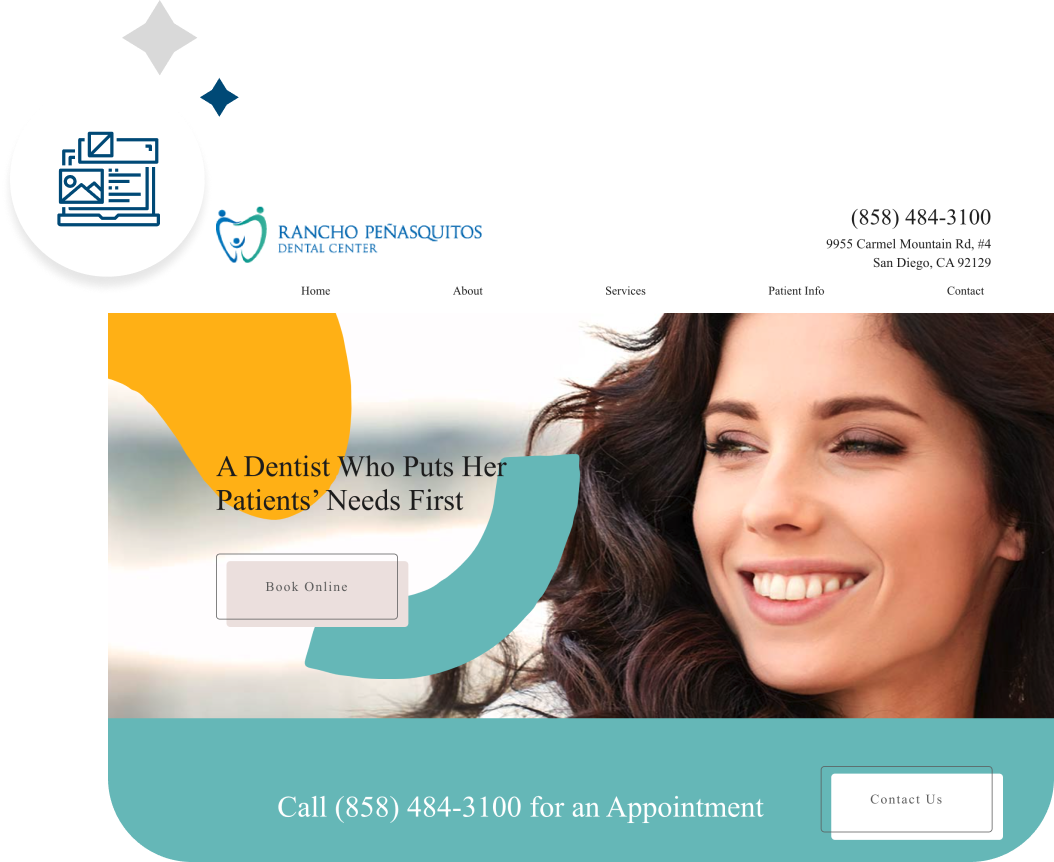 Website Design
Think of your website as a 24/7 concierge, the most important sales asset you could ever own. Is that concierge able to answer all of your visitors' questions and provide the value they're seeking? Or do they send your visitors in circles and leave them more confused than ever?
Without a proper website build, you run the risk of:
Staying invisible to patients looking for a practice online because you don't have a website, OR
Turning away potential patients who do land on your website because you're unable to create a real connection with them through content and design.
We started Great Dental Websites with one thing in mind — to create great dental websites! It's our bread and butter, and thanks to a custom-built platform that is updated on a regular basis, we make it easier than ever for practices to maintain a modern web presence.
Domain & Email Setup
In addition to website design, our IT team will handle the more technical details of website development. DNS settings and backend development errors can wreak havoc on your website's visibility without proper set-up, and we take the steps to eliminate those chances early in the process.
With a proper website up and running, we also set up your email addresses so your entire office can get online with the proper branding to support your practice. Personalized, branded emails are crucial when trying to communicate with patients and build brand recognition in your community.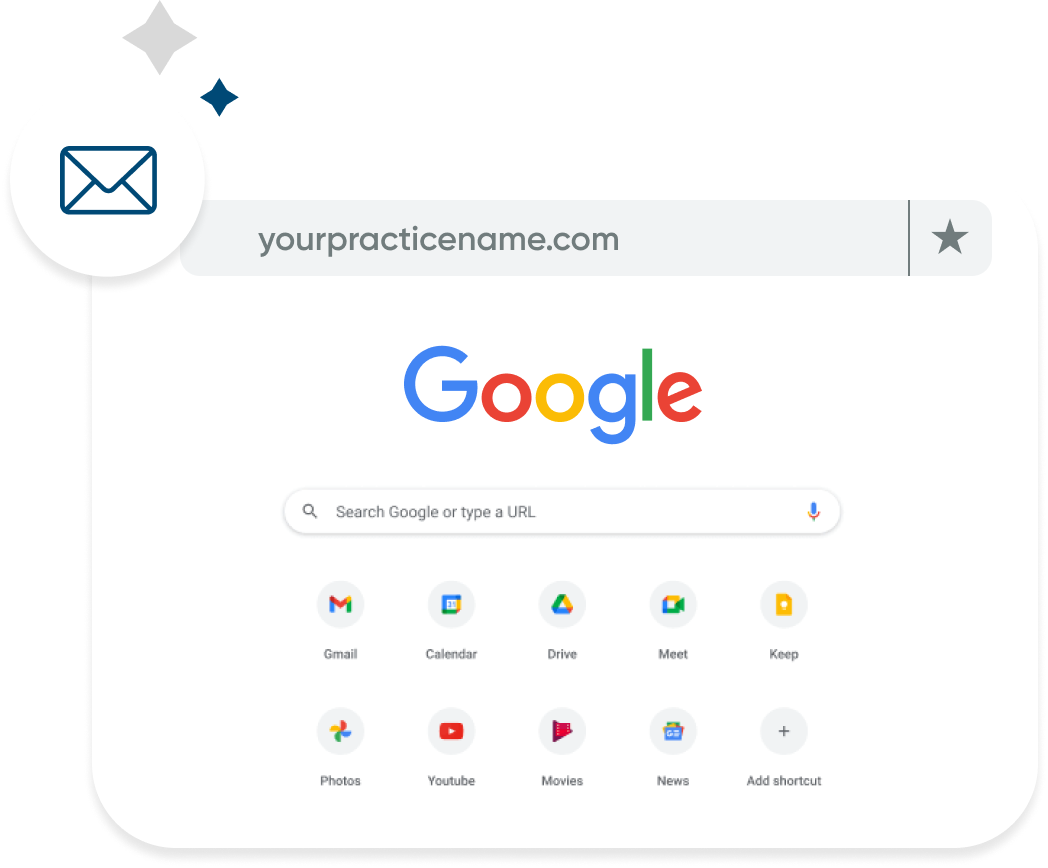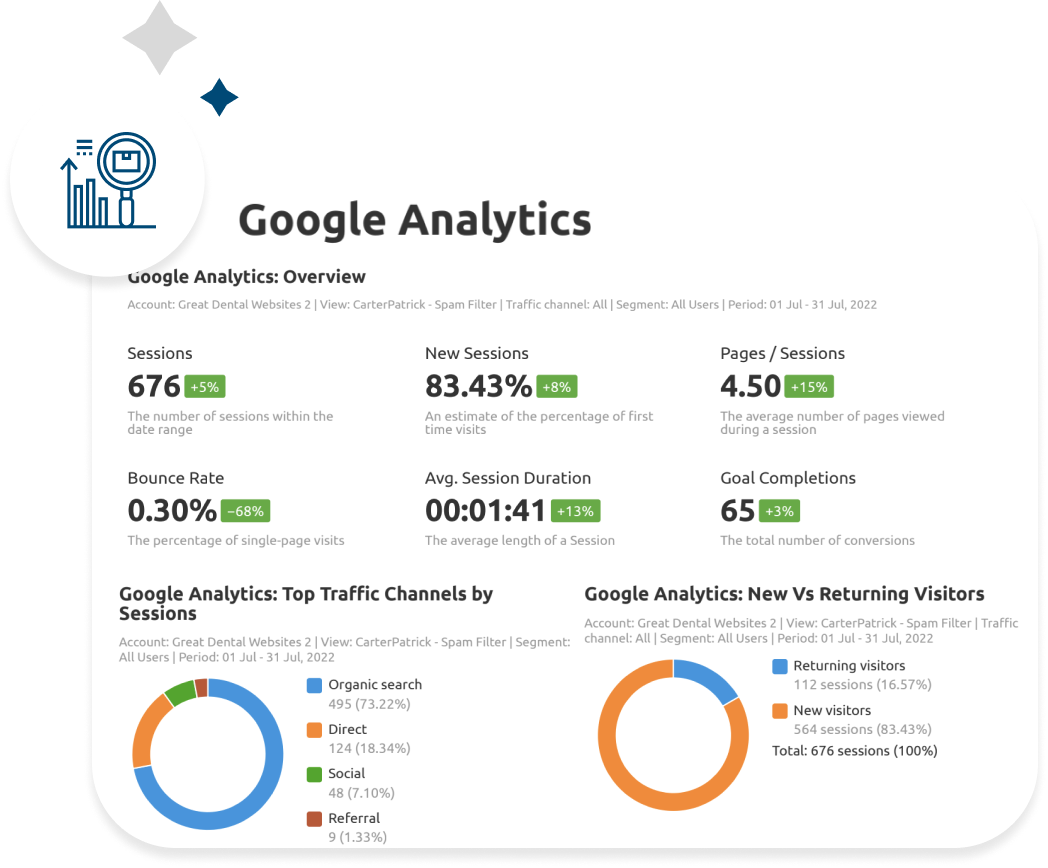 Onsite Optimization
You can't build a mansion on a shaky foundation, much less a shack — dental marketing is no different. No matter how great your design looks or how enticing your words appear, all of that effort will be wasted if patients are unable to find you.
Our initial onsite optimization will create a solid place from which you can continue to build your online presence and get started on the right foot. We never rely on unethical, quick-win techniques that cause long-term consequences. Instead, we base our strategy on ethical aspects of digital marketing, including:
Custom metadata and page titling
Directory submissions
Page-by-page redirects
Asset ownership
One-time onsite optimization allows you to confidently build your site and produce meaningful content.
Client Testimonial
Wonderful company. Great analytics and great people whose only concern is their client's success. I opened my start-up dental practice and Great Dental Websites helped me get a great website, as well as PPC and SEO campaign going. We've grown every month! Very pleased with GDW. Highly recommend.

Logo Development
Think about your favorite brand — what's the first thing that comes to mind? It might be the last product you purchased from them or a catchy slogan, but more often than not, it's the logo.
A good brand starts with a recognizable logo. If your community members can see your logo around town and immediately associate it with your practice, you're doing something right. We help make this a reality by working with you to create an eye-catching, distinguishable logo that you can use on all of your marketing — online or offline.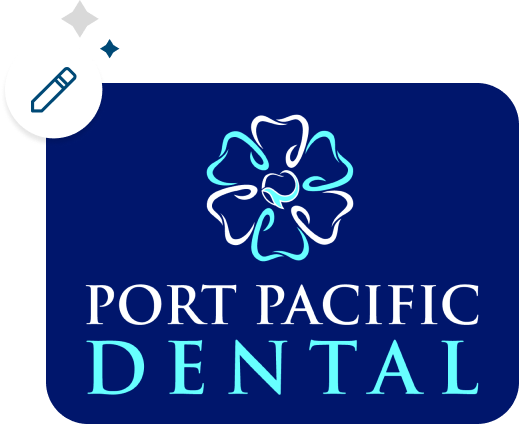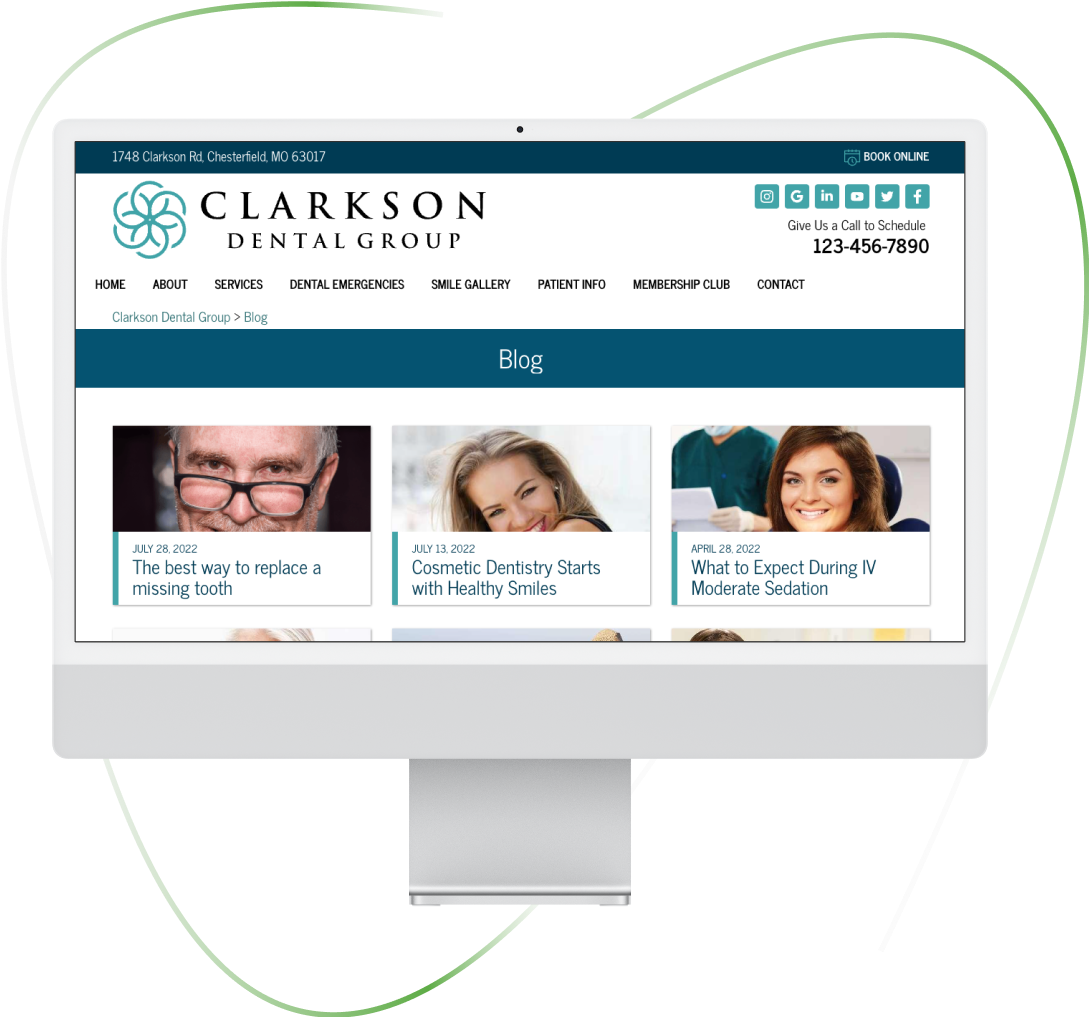 Copywriting
If you haven't already heard, content is king. It's how search engines know where to list you when people are looking for dentists, how patients interact with you and decide whether or not to entrust their pearly whites to you, and thus, how you gain business as a practice.
While you know your practice best, you may not have the time to write persuasive and effective website copy. Let our dental copywriters get into your head to write engaging content. Our team of writers understands how to balance content written for robots (the search engines that will actually list your website) and human beings (the people that will give you their money).
One-time copywriting can include a number of things, including:
Content for your homepage
Content for each of your service pages
Case studies
Initial blogs
Video Production
If content is king, video is the supreme ruler. While words are crucial to improving relationships with potential patients and rocketing up search results, it's unfair to expect website visitors to read everything on your site.
Instead, make it easier for patients to get to know you, your team, and your practice through various videos that explain your services, showcase your personality and persuade them that you are the right practice for their needs. As an added bonus, your website rankings will benefit from people spending more time on your pages, a crucial metric when it comes to appeasing Google and other search engines.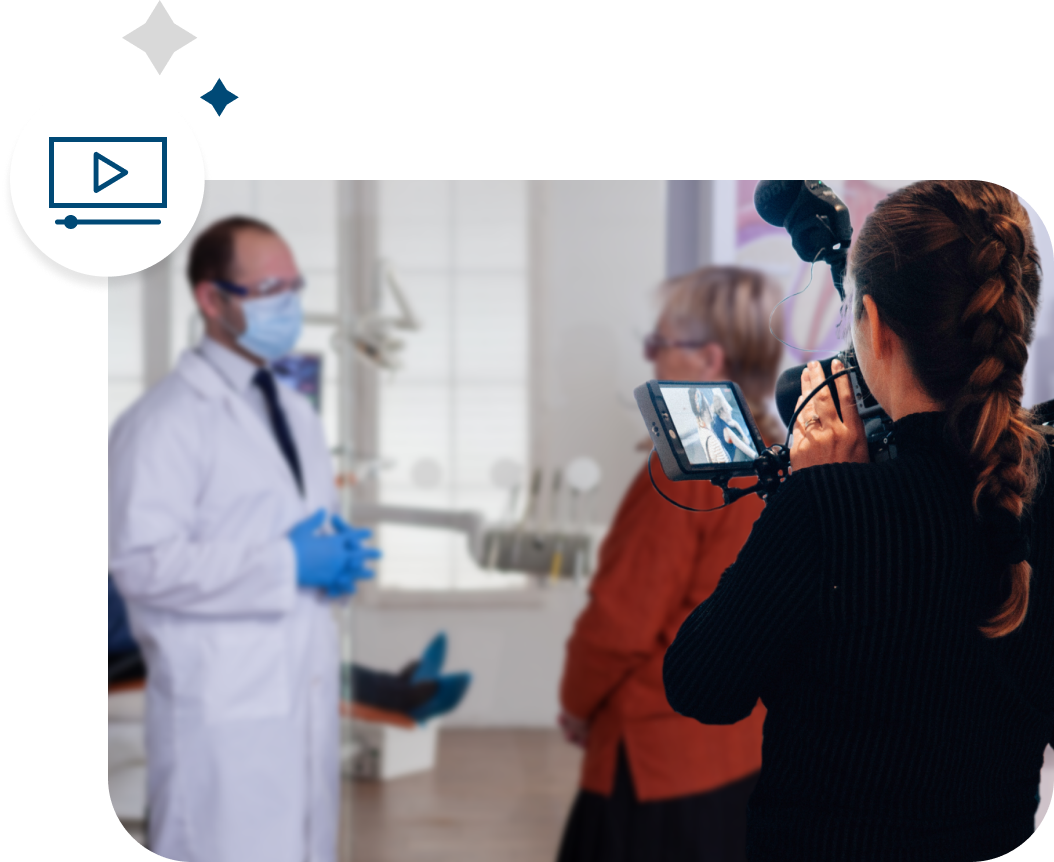 Dental Marketing Customized for Your Practice
We know that no two practices are identical. As such, no two marketing strategies should be identical. We take the time to work with you to create a tailored dental marketing strategy with one goal — do whatever it takes to improve your business. Ready to get started? Fill out the form to the right to begin customizing your strategy!