One of the best ways to market your dental practice is through patient reviews. Patient reviews are more powerful than other forms of marketing, like billboards or tv commercials, because they provide social proof that other people approve of your practice. The bottom line? People trust other people. And if you can show prospective patients that people truly like and trust your practice, they will be persuaded to try you. After all, no one wants to go with an unverified option when they can opt for a dentist who's already been vetted.
Every dental practice will benefit from getting reviews.
Not only do reviews provide important trust signals, but they also give prospective patients insight into the types of services that you provide. Reviews should be descriptive endorsements of what you offer and why you're the right choice.
A review on your website is just as persuasive as one given face-to-face. That's because, over the years, people have learned to trust online reviews just as much as they do in-person reviews. So, do yourself a favor, and collect as many reviews as you can.
In this post, we'll show you how to collect reviews for your practice and where to promote them. Let's get started.
Where to Get Reviewed
Having reviews is one thing, but if no one sees them, it won't matter. This is why you should be very strategic about where you get reviewed. Ideally, you want to show the most reviews at the most important places. These places include Google, your website, and your Facebook page— the three places where prospective patients are most likely to go when searching for a dentist in general and more information about your practice specifically.
So, let's break down why these sites are important and how to get reviews on them.
Google My Business
Google is the #1 search engine on the Internet, and many people start their search for dentists with a simple Google search.
For local businesses, such as dental practices, Google offers a service called Google My Business. This listing service automatically displays when someone searches Google for a local business. Google My Business listings appear as part of Google maps, and above the organic searches.
To learn more about Google My Business, click here.
Google My Business displays all pertinent information about your practice, such as your address and hours of operation. And it also shows reviews. Google tends to rank practices by their reviews. Also, Google will highlight the reviews that match the keywords which a prospective patient is searching for, such as "tooth extractions."
After claiming your Google My Business listing, you can start getting reviews on Google.
The easiest way to do it is by creating a short URL link for your listing and then sending your patients to that link. Here's how to do it.
Facebook
Facebook users may start a search for a dentist via Facebook. Facebook is the top social media platform, and it's a great place to get recommendations for local dentists.
Prospective patients may ask friends for dentist recommendations on Facebook and then, since they're already on the platform, search for the practice's Facebook page. This is why it's a good reason to have a Facebook page for your practice.
Facebook also allows you to collect reviews on your page. Ensure that your "reviews" tab is activated on Facebook. To do this, go to your page settings, click on the "templates and tabs" option and ensure that "reviews" is toggled on.
This way, when a patient wants to leave a Facebook review, they can navigate to your page and click on the "review" tab to leave a recommendation. Reviews that have been made public will show up instantly in the reviews section of your Facebook page.
Your Website
Last, but certainly not least, is your website. Website reviews play a crucial role in converting prospects into new dental patients. If a prospective patient has made it through Google or Facebook and onto your site, you've become a serious contender. But you may be on the shortlist with a few other dentists. Use the reviews on your website to give you the edge over your competition.
For this reason, pick a few top reviews to proudly display on a carousel loop on your homepage. These reviews can reinforce your practice's unique value proposition, such as your excellent patient care or the cleanliness of the facility. Because it's your website, and not a rented space like Facebook, you can select exactly which reviews to promote on your site.
We also recommend having a dedicated page for your reviews or testimonials. This page can be a collection of reviews that were personally shared with you and your staff, but it can also contain reviews from Google. On the websites that we create for our clients, we can seamlessly integrate reviews from Google onto your testimonials page. Through our data, we've found that prospective patients look for and actively read reviews on dental websites. So, it's important to include them.
When to Ask for Dental Reviews
Now, let's discuss when to ask for reviews for your website, Facebook page, and Google My Business profile.
After Treatment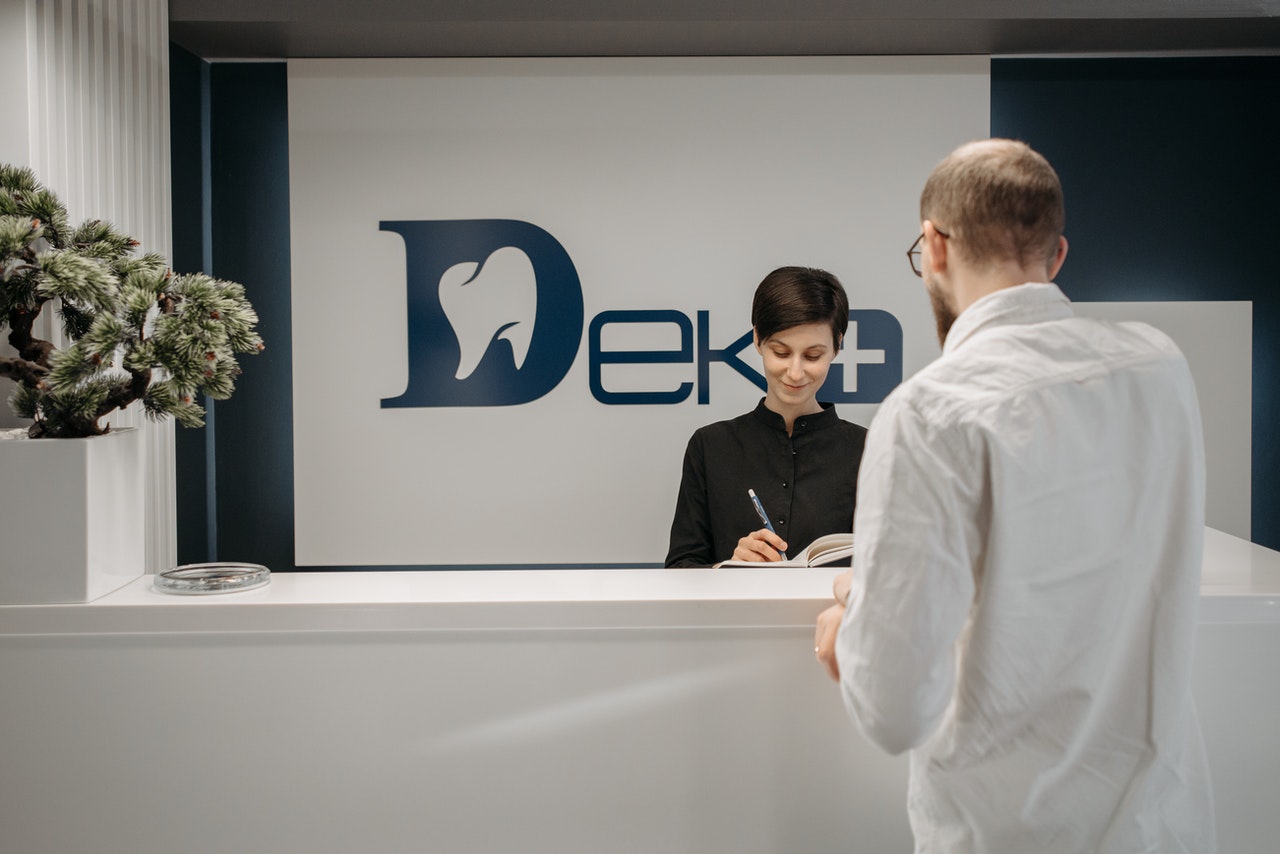 It's often a good idea to ask for reviews immediately following a treatment, especially if you know that your patient has had a pleasant experience.
Train your office staff on how to spot and when to approach a happy patient.
Depending on the procedure, some patients may be groggy. In those cases, it's best to follow up with a review request at a later time. For example, in a post-appointment email or phone call, you can ask your patient to leave a review about their experience.
Via Your Monthly Newsletter
If you send out a monthly email newsletter to patients, add a request at the end for reviews. Sometimes, patients won't think to leave a review unless you ask.
At a Patient Event
If you throw events for your patients, don't forget to ask them for a review. If they're attending your event, they're likely happy with your service, so it's the perfect time to ask.
How to Ask for Patient Reviews
Now that we know when to ask, let's talk about how. How is usually the hardest part, but these tips will make it easier:
Make It a Point to Ask
First, make it a point to ask your patients.
Many practices simply don't ask for reviews. Don't assume that a happy patient will automatically leave a review. There are several reasons why:
First, they may not think to do it. People are busy, and the thought of leaving a review isn't usually at the top of their to-do list.
Second, they may not know how to leave a review. If you want people to leave a review, make it dead-simple for them to do it.
Third, they may not know what to say. As we'll point out below, you must and can make it easy for them to come up with a polished, articulate review.
Remember that most people won't leave a review unless and until prompted. That's not to say they don't love your practice, it's just that life gets in the way, and they don't think about it. They may not even think that their review matters. This is why you must take the first step and ask.
Give Them a Reason to Leave a Review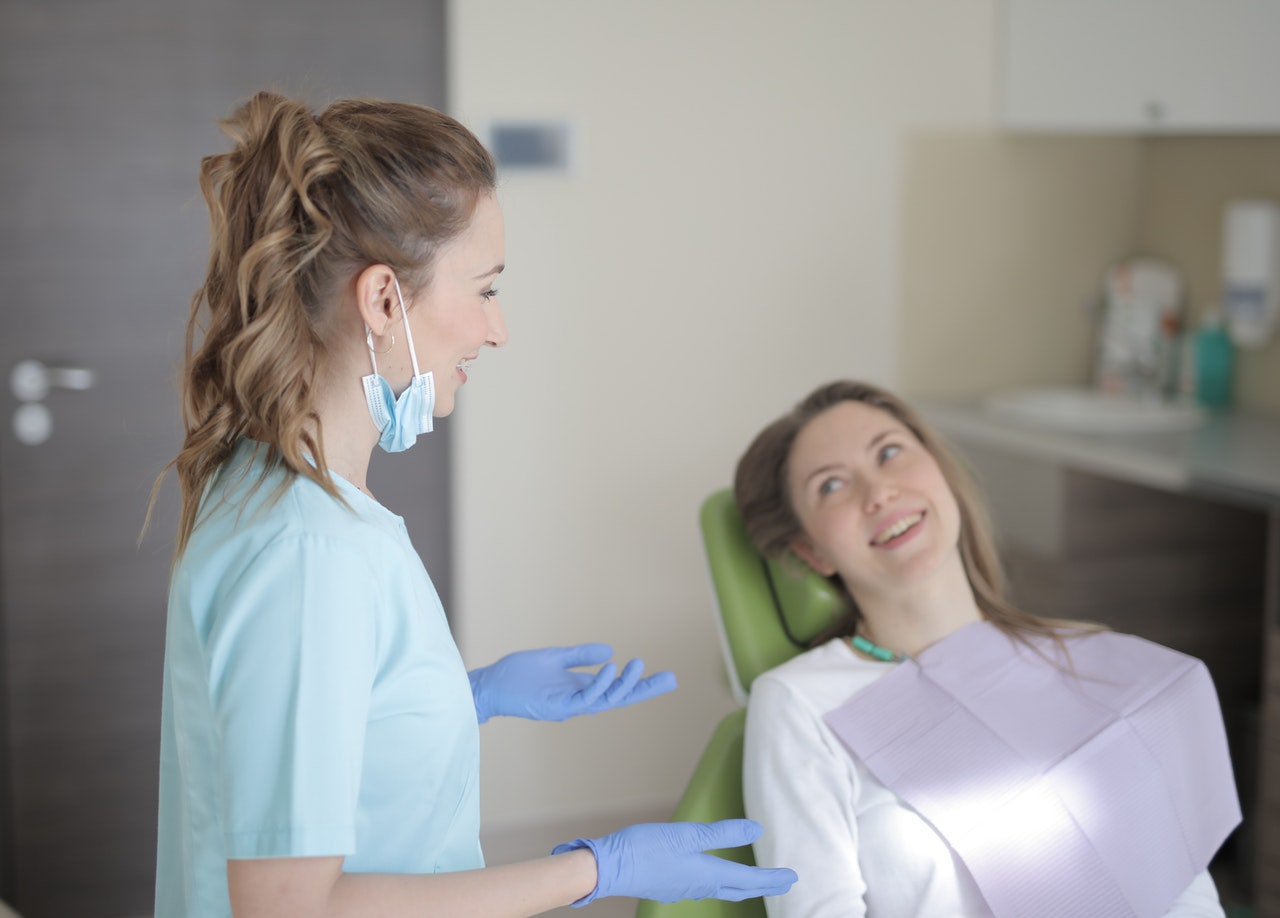 Don't just ask, "Hey, can you leave a review?" Instead, attach a reason to it. People are motivated to act when they understand the reason behind it.
For example, your reason may be: "Please share your review with us so that others can find us" or "Leave a review because we'd love to know what you truly think about our patient—the more you share with us, the more we can improve the quality of our care."
Your reason may be simple, but it can inspire your patient to act.
Offer a List of Questions
Not all reviews hold the same weight. Single-sentence reviews like "I love them" does not pack the same punch as a review like "I was scared of the extraction but they treated me like family and held my hand. I'm now a patient for life."
The goal is to get a review that discusses why your service is so amazing.
To get these types of reviews, you have to ask leading questions like:
How were you treated by our front office staff?
Did you feel like the doctor listened to your concerns?
Would you recommend us to your friends and family and, if yes, why?
Be Grateful
Always offer a "thank you" in advance when asking for a review. Giving a review is not mandatory, so show your patients that you're appreciative of their time and energy.
Keep it Short and Sweet
No one wants to spend 30 minutes leaving a review. Ask five to 10 questions to get a good review, but resist the urge to go beyond that amount. Otherwise, people will grow weary of answering questions.
Make It Easy to Leave a Review
As mentioned above, it should be easy to leave a review. Give them the step-by-step for how to do it or else they'll give up.
Decide where you'd like the review to go. You can:
Collect reviews in your email and then add them to your website manually
Collect reviews in your office on review cards and then manually input them on your website
Direct patients to leave reviews on Facebook or Google
Whichever option you choose, make sure that the steps are easy as pie.
Final Thoughts
Getting reviews will help you stand out from your competition, build trust, and convert prospective patients into new ones. Use the above tips to get the best reviews for your dental practice.

Great Dental Websites helps dentists realize the greatest return on their local digital marketing investment through world-class marketing services and an intuitive, dental-specific website management platform. Since 2007, we have designed unique, modern dental websites for over 900 practices in the US, Canada, Australia, and New Zealand.