In the SEO world, constant change seems to be the only thing that stays the same. As our team works to find repeatable SEO strategies that garner real-world results for our clients, there is a lot to keep track of. Here are three things we are keeping a watchful eye on as we look to finish the year with strong ranking and traffic improvements.


1. Algorithm Updates - So Hot Right Now
If you check Google Search Central Twitter daily like we do, you may have noticed that the August 2023 core algorithm update began rolling out today (August 22nd). This release marks Google's second extensive core update this year. The SEO team at GDW is constantly monitoring algorithm changes from Google and other prominent players in the search engine space, and we have suspected to see this update for a few weeks now. Our suspicions were roused by the enormous amount of volatility we have been seeing on SERP monitoring tools like Semrush's Sensor. Here's how they describe this tool:
"Semrush Sensor is designed to monitor daily changes in the rankings in the selected category and gauges the SERP volatility on a scale of 0-10. The higher the score is, the more likely an algorithm update was introduced by Google."


While data from the sensor does not necessarily reflect how our individual campaigns are moving, it does help us gain context about how Google is changing its algorithm and SERPs at scale. As you may have already heard from us, SERP volatility in the health category has been unusually high over the last few months. This volatility is only an indicator of change, and it has often resulted in positive movement for our dental SEO campaigns. As we can now confirm, it has also proven to be a strong indicator of a potential algorithm update.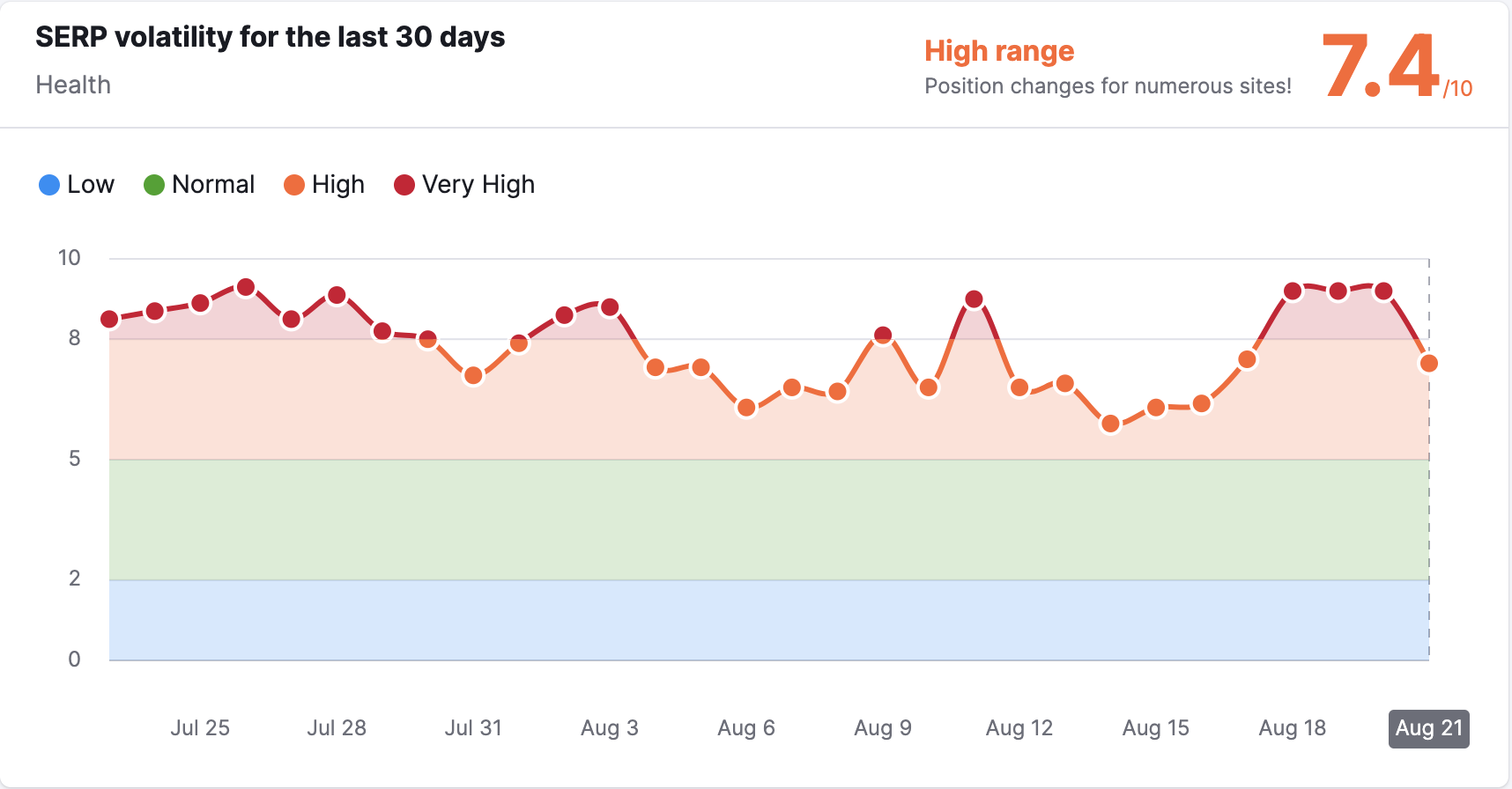 It's still too early to tell exactly how the August core update will impact our dental SEO campaigns. Our team continues to monitor these changes daily, so we can have the fastest possible reaction to any position changes and keep our active SEO campaigns moving in a positive direction.
2. T

he Demise of FAQ - Rich Results
Earlier this month, Google recently revealed some sizable changes to its rich results, affecting HowTo and FAQ formats. FAQ results will gradually disappear from most websites, with the exception of a few "well-known, authoritative government and health websites."
Google stated that this update aims to create a cleaner and more consistent search experience. The rollout of these changes has already been completed.
What Were Those Things Anyway?
Remember the platform-wide schema update we rolled out at the end of last year? A small portion of that update was catered to improving our FAQ results on the SERP. FAQ-rich results are a type of enhanced search feature offered by Google. These results are designed to provide users with quick and concise answers to commonly asked questions directly within the search results page. When triggered, FAQ-rich results display a list of questions along with their corresponding answers, making it easier for users to find relevant information without needing to click through to a website. These results are generated based on structured data markup that publishers add to their web pages, helping Google understand and present the FAQ content effectively.
Limited Availability:
Google will limit FAQ and HowTo rich results to high-authority health and government websites. For other sites, these results will be less prominent or may not show at all. This shift is disappointing to many of us in the SEO community who invested time in creating FAQ content and structured data. However, it is not necessarily a bad thing for your rankings. Loosing a featured snippet does not always mean that you will lose your ranking position, and in many instances, a regular URL ranking will drive more traffic to your site than an FAQ on the SERP.
3. Social Links Coming to Google Business Profile
It appears that Google may soon grant users the ability to display and edit their social media links on business listings within both Google Search and Google Maps. Earlier this month, Google released a new walkthrough that details the process of adding and editing social media links to your Google Business Profile.



Our SEO team has yet to see this feature available in any of our client's GBPs, but we plan on updating social links for all ongoing SEO clients as soon as we do!
Get Results for Your Practice
Navigating the world of SEO can sometimes feel like exploring uncharted territory, especially regarding the unique challenges and opportunities that dental practices face. If you have questions about how dental SEO works, what strategies are most effective, or how it all fits into your practice's growth, we're here to help.