Our SEO team is constantly researching and testing ways to improve the performance of our marketing campaigns. This month we are very excited to announce the rollout of yet another update to our schema markup to benefit our clients' marketing efforts.
What Exactly Is Schema Data?
Search Engine Journal describes schema markup as "a type of microdata that creates an enhanced description Google might use in search results as a rich snippet. In essence, it's a shared vocabulary that enables search engines, including Google, Bing, and Yandex, to better understand the content on any given webpage."

That definition is a bit wordy. In short, schema markup helps convey your website's overarching purpose and the crucial elements of each page to search engines. Correctly implemented schema data can improve your rankings and allow patients to find pertinent information much faster.
A Real-Life Example
Pretend you have a potential patient who searches "What is a simple extraction?" on Google. Because of your effective content strategy, you already have an original, well-optimized FAQ on your website that covers this exact question, Lucky you! In addition to your content strategy, having correctly implemented schema markup on this FAQ will significantly increase your chances of showing up in a rich snippet like this: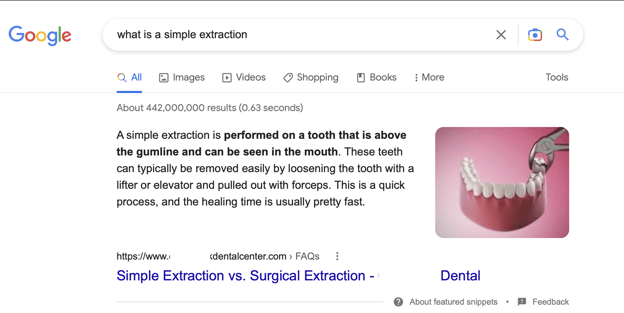 Rich snippets have an enormous impact on your overall traffic, with studies showing 30% gains in click-through rate.
What's Changing?
Our websites have always had schema markup, but this year we released several changes designed to improve organic rankings and keep up with constantly changing search engine algorithms. Here are the highlights:
FAQ Markup Improvements
While we already had FAQ markup on all of our sites, these most recent changes make it more likely for your FAQs to appear in featured snippets like the example above.
Enhanced Author/Publisher Markup
This change helps to highlight the specific dentists who author blog posts on their websites. It is particularly important for Google's EAT (Expertise, Authoritativeness, and Trustworthiness) update from last year.
Updated Breadcrumbs
Breadcrumbs help search engines better understand your site structure, making it easier for them to effectively crawl and rank pages on your site.
Your Full-Service Dental Website Marketing Company
We like to keep our clients posted on our many efforts behind the scenes to support their success. If you have questions or want to speak to a team member, call us at (720) 399-7071 or contact us online.