It's no secret that the ability to effectively market your practice online and attract new patients through multiple channels has become paramount to achieving sustainable growth. However, between providing excellent dental care to your patients, balancing business ownership, and still enjoying life outside of work, marketing your practice probably seems like just another responsibility on your already crowded plate. Trust us; we get it. At the same time, though, the ability to market your practice and attract new patients is the most important aspect of growth. So, where are you supposed to start?
Right here! Whether you've been successfully marketing your practice for years, are looking to boost your online marketing efforts, or have never ventured into a specific dental marketing strategy, it's crucial to understand your current position so you can identify your end goals.
The Dental Marketing Audit You Can't Live Without
In this comprehensive dental marketing audit guide (available for free download), our team will walk you through a number of separate audits you can conduct for yourself to gauge the overall marketing footprint of your practice.
Evaluating your strengths and weaknesses is the first step on the path to practice growth.
What's Inside?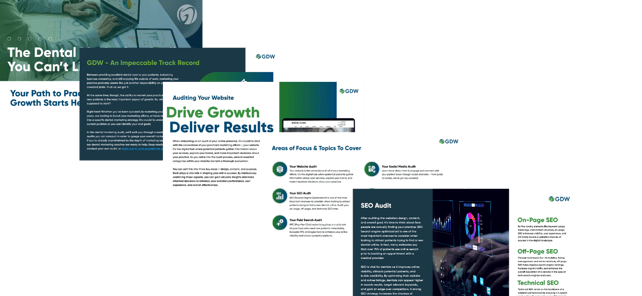 Auditing Your Dental Website
Your website is the final destination of any successful marketing campaign, so this is the best place to start. It acts as a digital cornerstone where potential patients gather vital information about your services, delve into your brand, and make crucial decisions regarding your practice. Inside our guide, you will learn more about how to audit your website's design, content, and main purpose.
Search Engine Optimization
If your goal is to cast a wide net for patients in your immediate area, dental SEO is an essential channel to focus your efforts on. Let's give your dental website's SEO a check-up, examining its on-page, off-page, and technical SEO impacts.
Paid Advertising
For practices looking to immediately target new patients (or target specific patient types), both PPC (Pay-Per-Click) and LSA (Local Services Ads) advertising avenues can be incredibly effective channels. Assess PPC and advertising strategies here to amplify your online visibility, and entice potential patients effectively.
Social Media Marketing
Discover valuable insights on effectively engaging and connecting with your patient base through various social channels. From crafting engaging posts to captivating stories, we've got you covered with all the essential tips and tricks.
Email Campaign Strategy
Email marketing is paramount to effectively engaging with your existing patient base. Just because they are a patient now does not mean they always will be. Keep them coming back, and audit your email strategy to watch your engagement, retention, and patient trust grow.
A Whole Lot More
To complete your dental marketing audit, we have also included sections on optimizing direct mailers, increasing your referrals, and online reputation management. They can still be effective methods of advertising when combined with the digital marketing sections already mentioned.
Download Your Free Audit Guide
Too Much? You Don't Have to Do Do it On Your Own
Marketing your dental practice may feel like an overwhelming task, but you don't have to do it on your own. At GDW, we understand the challenges you face in juggling patient care, business ownership, and personal life...all while trying to effectively market your practice. We recognize that marketing is essential for practice growth, and we're here to help. Reach out to our team today and let us support you in achieving your practice growth goals.
Contact us if you have any questions or need further assistance. Together, we can (and will) take your dental marketing to new heights!