Earlier this year, Google introduced Local Services Ads as an innovative alternative to the traditional "pay-per-click" model that has been around for decades. LSAs have a number of differentiating factors from conventional pay-per-click advertising, but there is one that stands out: With LSAs, you only pay for qualified leads – actual phone calls from potential patients. This means you can maximize your ROI by directly advertising to patients who are ready to book an appointment.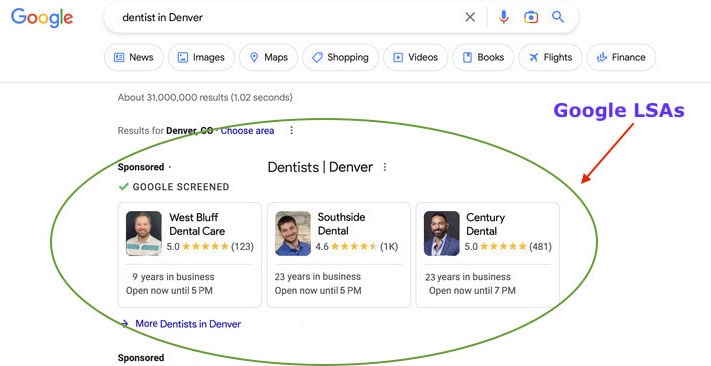 In August's case study of the month, you can read about GDW's initial foray into the world of Local Services Ads for dentists. Many of our early adopting dental practices experienced an immediate improvement in verified new patient leads with a positive return on investment. But that's not all; LSAs also offered some compelling benefits.
Reduced Risk:
With LSAs "pay-per-lead" model, you're only charged when a qualified patient connects with your practice. Unqualified lead? Get a refund from Google's dispute system--now that is smart advertising!
Google Screened:
Gain trust and credibility with the Google Screened badge. Once fully verified, your ad displays this badge, indicating you are a trustworthy service provider. This builds confidence in potential patients and sets you apart from the competition.
Early Adoption Advantage:
Google limits the number of businesses in each LSA market. By getting on board early, you gain a competitive edge over those who delay, as you'll have access to a hyper-local audience hungry for dental services.
Become an Early Adopter
Find out more about meticulous research and analysis conducted by our Paid Search team to lay the foundation for an exceptional jump into Google Local Services Ads for dentists. Download the full study by clicking below!