When a potential patient visits your website, they're not just looking for your office hours or the services that you provide. They're also trying to determine whether they can trust you. Are you the right choice? Or should they book an appointment with the other dentist down the street? This is why testimonials play a crucial role on your website. Testimonials aren't just "nice to have," they're absolutely essential if you want to convert visitors into new patients.
In this post, we'll share tips on how to find and use testimonials effectively on your dental website.
Let's get started.
What are the Benefits of Getting Testimonials for Your Dental Website?
Simply put, testimonials are more powerful than any other marketing content that you share on your website. Testimonials even outperform promotions and coupons. Why?
People trust other people. Your prospective patient knows that you're going to say wonderful things about your practice, so they immediately downplay your promotional statements. But when a patient says something wonderful about your practice, their words weigh more than your marketing. Testimonials on your website can accomplish the following:
Build trust with your prospective patient - People prefer to follow the recommendations of other people over marketing.
Forge a connection - By sharing a testimonial (along with a real photo of the patient), you can form an immediate human connection with your prospective patient.
Show what you offer - Testimonials can highlight the different services that you offer, and discuss your services from a patient's point of view.
Act as word-of-mouth referrals - Referrals are the most powerful form of marketing available, and testimonials act like referrals.
If you offer the same services as competitors, adding testimonials to your website can tip the scales in your favor. You can use testimonials strategically to show why you're different (and a better fit).
There is no downside to including testimonials on your dental website.
How to Get Testimonials for Your Dental Website
Now that we've discussed the benefits of testimonials, let's talk about how to get them.
Ask in Office
One of the easiest ways to get testimonials is to ask your patients while they're in the office. You can either ask before or after a procedure, but it's usually best to wait until after. This way, you know that they're happy with your service (and no longer nervous or anxious).
But sometimes it's not possible to get a testimonial immediately after a service. (Thanks a lot, Lidocaine.) When this happens, consider following up with your patient at a later time. But ask them before they leave if they'd be willing to provide a testimonial at a later date. This way, you have their permission to follow up. You may even consider thanking them in advance for the testimonial by providing a goody bag.
Choose Specific Patients
Be choosy on who you ask for testimonials. Let's say you're trying to promote a particular service, like dental implants. Instead of asking for testimonials from patients who are doing their 6-month check up, focus on patients who've recently received an implant. This type of testimonial will weigh more to prospective patients who are interested in the same service.
Ask Your Email List
In addition to asking in office, also ask the patients on your email list. At the bottom of your newsletter, invite your current patients to leave a testimonial on your website. You can either ask them to email you back with a testimonial or direct them to a specific page on your website where they can leave a written testimonial.
Ask After a Survey
In addition to asking for testimonials in your newsletters, also send out a survey to your email list a few times a year. The purpose of your survey is to gauge patient sentiment. Only ask a few questions (no more than five) to ensure maximum participation. Then, be sure to quickly review the answers. Follow up with those who've left positive surveys and ask if they'd be willing to leave a more detailed testimonial.
Reach Out to Your Social Media Followers
After email, social media is another gold mine for getting testimonials. Reach out to your followers on your social media pages. Ask them to leave a testimonial either on your website or on your social media page. If they leave it on your social media page, be sure to copy and paste it onto your website so that your website visitors can see the testimonials, too.
How to Get the Best Testimonials
Now that we've established how you can get testimonials, let's discuss how to get the very best testimonials possible.
While all testimonials are nice to have, some are more impactful than others. A testimonial that simply says, "They're great" won't weigh as much as a testimonial that says, "Dr. Holliday was patient and kind, and took the time to explain the procedure so that I understood it. He and his staff made sure that I felt comfortable. I recommend this practice to all of my friends and family."
So, how do you extract the best testimonials?
Ask Specific Questions
Don't leave it up to the patient to formulate their own testimonial. Most people aren't going to write testimonials beyond "they're great." Guide the conversation to get the most out of them.
Ask questions like the following:
Which one of our services did you use?
What caused you to choose our dental practice?
What do you like most about our service?
What was your experience like with our staff?
If you had to choose three adjectives to describe our practice, what would they be?
Would you recommend our service to your friends and family? If yes, why?
What would you say to someone who's unsure of using our services?
Notice the absence of "yes" or "no" questions. The above questions are designed to pull out thoughtful answers.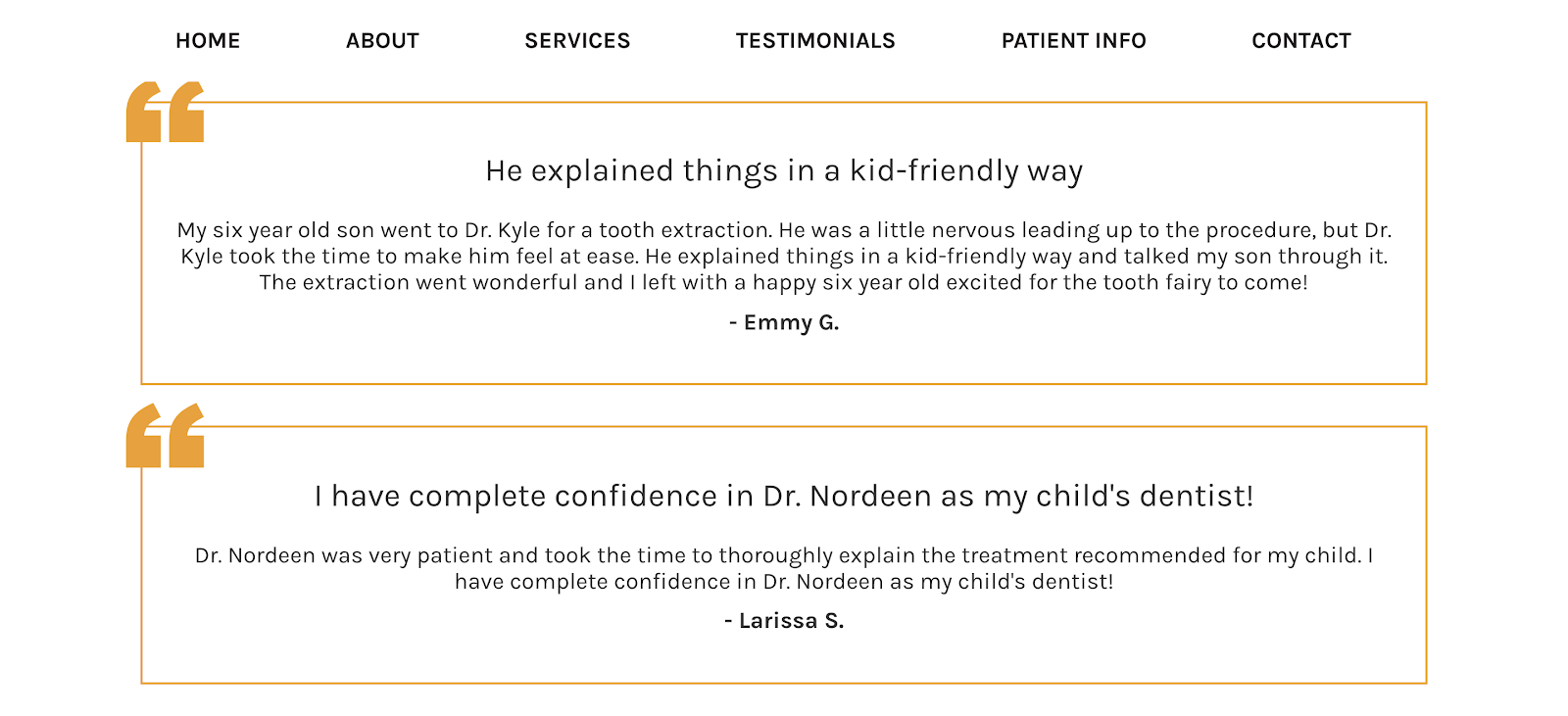 Image Courtesy of Carousel Pediatric Dentistry
Record Video Testimonials
If you have the fortune of recording video testimonials for your website, be prepared. First, be respectful of your patients' time. Ensure that all of your equipment and questions are ready to go immediately.
Next, keep the testimonial simple. You're not running a production studio out of your dental office. It's okay to whip out your smartphone and record a video that way. But remember to turn your phone sideways so that you're recording in horizontal mode instead of vertical. (This orientation looks better on your website.)
To reduce shakiness, use a tripod for your phone.
To improve audio quality, use a clip-on microphone (you can find one for under $10 on Amazon).
To get the best lighting, record the video in front of a window with the patient facing the video.
Video testimonials rarely need to go beyond five minutes in length. Keep it short by asking questions from the above section.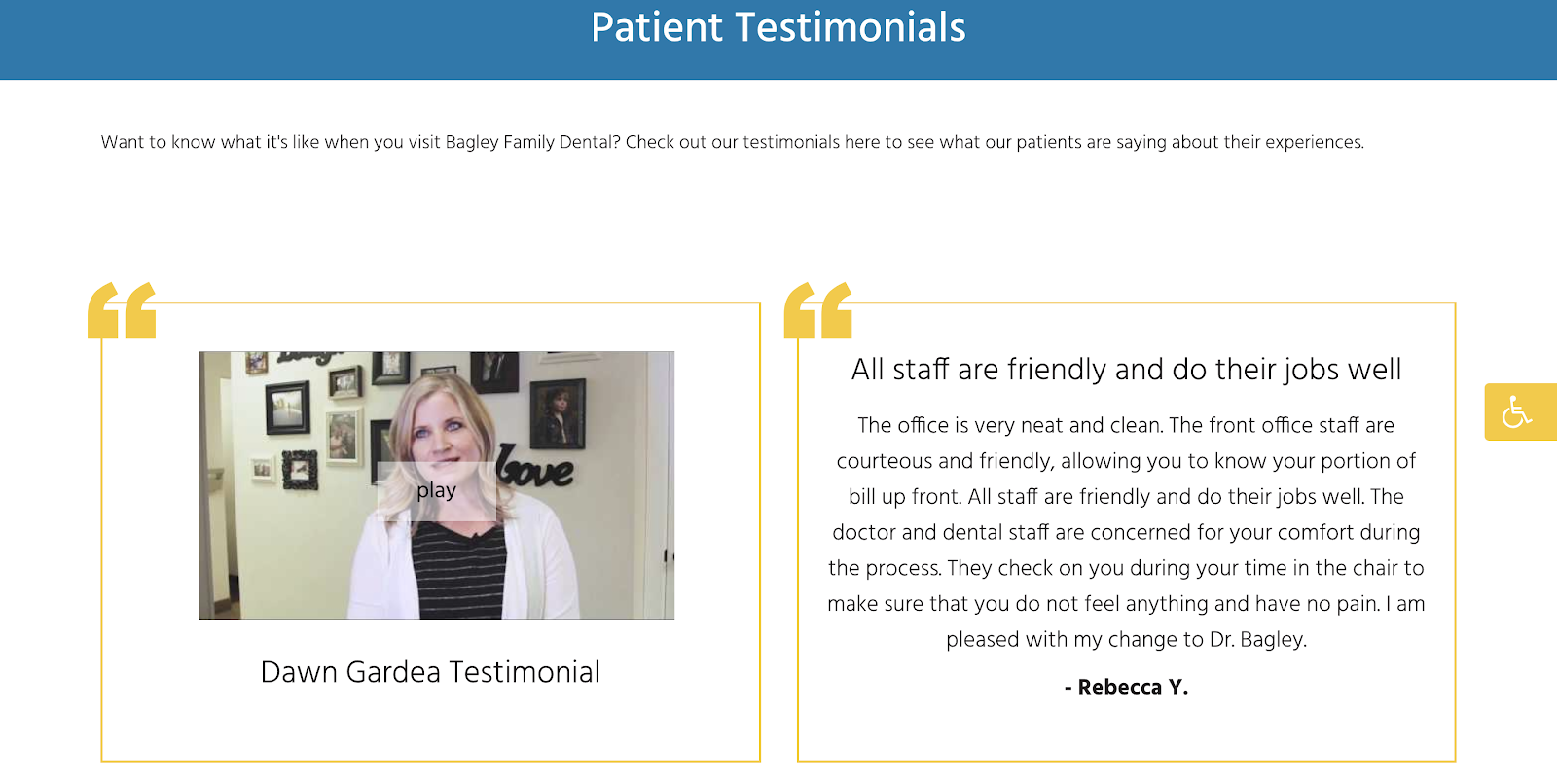 Image Courtesy of Bagley Family Dental
Add Images and Real Names
If you don't have the video, get photos. You can take a quick photograph of your patient before and after the procedure. Or you can ask the patient to send over an image of their choosing. Don't skip this step, though. Including a photo with the testimonial makes it even more impactful.
How to Use Testimonials on Your Dental Practice's Website
Now, we're in the final stretch. How do you effectively use testimonials on your website to grab the visitor and convince them to choose you?
Edit the testimonial
Only share the highlights to keep the testimonial as effective as possible. You can also whittle down written testimonials, too. Keep them to five sentences or less. Highlight the best and toss the rest.
Cherry-pick which ones to show on your website
Taking that attitude an extra step, remember that you don't need to share every testimonial on your website. Only share the very best, and most descriptive, testimonials on your website. If you share too many, you'll risk diluting all of them. To leave an impression on your visitor, choose standout testimonials that reinforce your unique value proposition (excellent patient care, innovative services, etc.). Most people will only read a few testimonials and skim the rest.
Add testimonials everywhere
Testimonials don't just belong on your home page. Share them everywhere that your patients may see them, including:
Your services pages
Your "Contact Us" page
Your FAQs page
Your "About" page
Don't show the same testimonials. Mix them up and make them relevant to the page they're on. On your FAQs page, share a testimonial about your customer service. On your "About" page, highlight a testimonial about your staff.
Also, don't feel limited to sharing testimonials on your website alone. You can also share testimonials offline, too. For example, frame a few testimonials and proudly display them in your waiting room.
Final Thoughts
Testimonials are the ultimate social proof for your dental website. Testimonials increase your credibility by highlighting how you've helped other patients. Use the above tips to get and share the right testimonials for your website.

Great Dental Websites helps dentists realize the greatest return on their local digital marketing investment through world-class marketing services and an intuitive, dental-specific website management platform. Since 2007, we have designed unique, modern dental websites for over 900 practices in the US, Canada, Australia, and New Zealand.