We are thrilled to announce a new update to our mobile navigation across our platform! This update is designed to enhance your patients' mobile browsing experience through improved functionality and aesthetics. As a growing number of users rely on their mobile devices to access healthcare information, we want to make sure that your website is easily accessible and user-friendly for all of your patients.
What's Changing?
The new mobile nav has several updated features that are all designed to increased the mobile capability of our sites. One of the most significant changes we have implemented is the addition of a collapsible hamburger menu, which allows patients to access all of your website's main pages with just a few taps. The navigation menu has also been redesigned to use new icons and more direct brand colors in the header:


Old Navigation Menu New Navigation Menu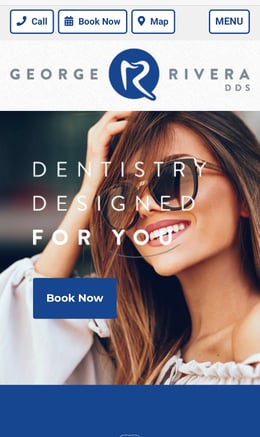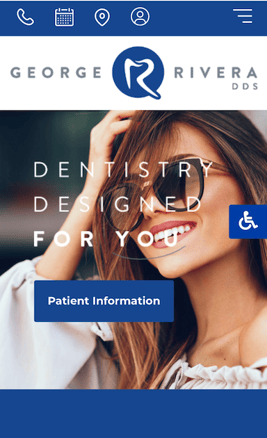 Updated Icons With New Functionality
The "Call", "Book Now", and "Map" buttons have all been replaced with new icons. The link for each of these icons is editable to fit the specific needs of your practice:



Links to your click to call number contact page for multi-location practices



Links to the contact page or online booking if applicable



Links to google maps, or the contact page for multi-location practices
Customizable Icons
We have also added three new icons to the mobile nav. A credit/debit card, account, and text icon. Users can customize which of these icons will show in the mobile nav depending on the needs for their website:

Links to bill pay or any related payment portal

Links to login page for patient portals or accounts

Send a text message to the practice if applicable
Activating the V2 Mobile Nav
Currently, the V2 mobile nav is only accessible for super-users on the GDW platform. If you would like to activate it on your website please reach out to our team and we would be happy to assist you.
At Great Dental Websites, we are dedicated to providing the best possible website and user experience, and we believe that our new mobile navigation continues to help evolve your website flow. We appreciate your continued trust in us and look forward to hearing your feedback on our latest update!

Great Dental Websites helps dentists realize the greatest return on their local digital marketing investment through world-class marketing services and an intuitive, dental-specific website management platform. Since 2007, we have designed unique, modern dental websites for over 900 practices in the US, Canada, Australia, and New Zealand.