Did you know that one of the best ways to market your dental practice is 100% free? It's called Google My Business, and it's a complimentary service provided by Google.
Google My Business can increase your dental practice's visibility online. After all, what better way to show up on Google than by using Google's own services?
In this post, we'll give you tips on how to take advantage of Google My Business to grow your dental practice. Let's get started.
What is Google My Business?
Before we discuss how to set up an account on Google My Business, it may be useful to know exactly what Google My Business is and why it matters.
Google My Business is a tool to promote your business on Google, specifically Google search and Google Maps. When your dental practice's website is listed on Google My Business, your office's details show up when Google users search for "dentists" or "dentists near me." Google automatically narrows its returns to a local search.
By identifying the searcher's IP address, Google knows where the searcher is located and which results to pull up. This is why when you search for "dental practices," you don't see pull up practices in Zürich or Kalamazoo (unless that's where you're located). Instead, you see results local to you. Google does this with any brick-and-mortar business that offers goods or services to a local community.
However, Google won't show your dental practice if it doesn't know about it.
You may think that optimizing your website is the best way to get found on Google, but that's only part of the story. You absolutely need a website to get found on Google. But you also need to create a Google My Business listing. This exponentially increases your chances of showing up when potential patients search for dentists in your area.
You see, when a user searches for dentists in the area, Google returns 10 "organic" listings by default on its search results page. "Organic" in a search engine context means that these listings are not advertisements that have been paid for. Instead, Google chooses its top 10 listings based on over 100 factors.
You can achieve this through a process known as search engine optimization, or SEO for short.
But it's incredibly difficult to rank among those top 10 listings, especially if you're a newer dental practice. If there are a lot of dental practices in your area, everyone's competing for that spot.
But you may be thinking, aren't there thousands or even millions of search results found on Google for every search query?
Absolutely!
But only page one matters. That's because 9 out of 10 Google users never click past page one. So, getting ranked among the top 10 listings will ensure that you get the most eyeballs on your dental practice's website.
What if you can't make it into that elite top 10 organic listing?
Google My Business is a savvy shortcut to local SEO domination.
When your Google My Business listing is optimized, it can actually appear above the organic listings.
In a local search, Google My Business listings appear in both the Google map and the results immediately below the map. Google has also included a call to action to "View all." When users click this button, they're swept away from the standard search results page and to the Google My Business search results page. They may never even see the organic listings! This means that general SEO is not as important as optimizing your website for local searches (and being listed in Google My Business).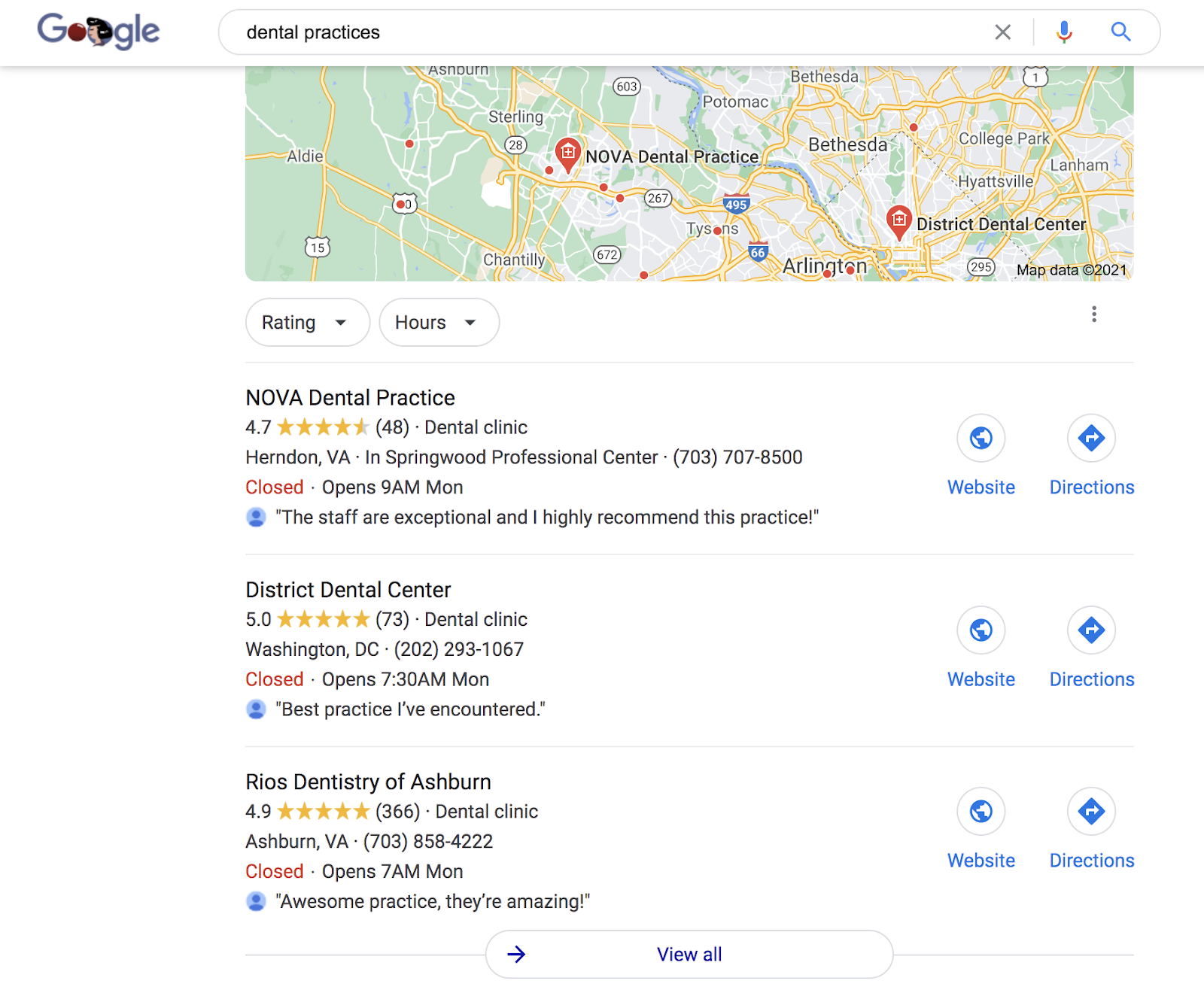 In the Google My Business search results page, users find 20 listings of local businesses along with a map that shows where each business is located within a specific area. Users can then read reviews, view hours of operation, find directions to the business, or visit the business' website.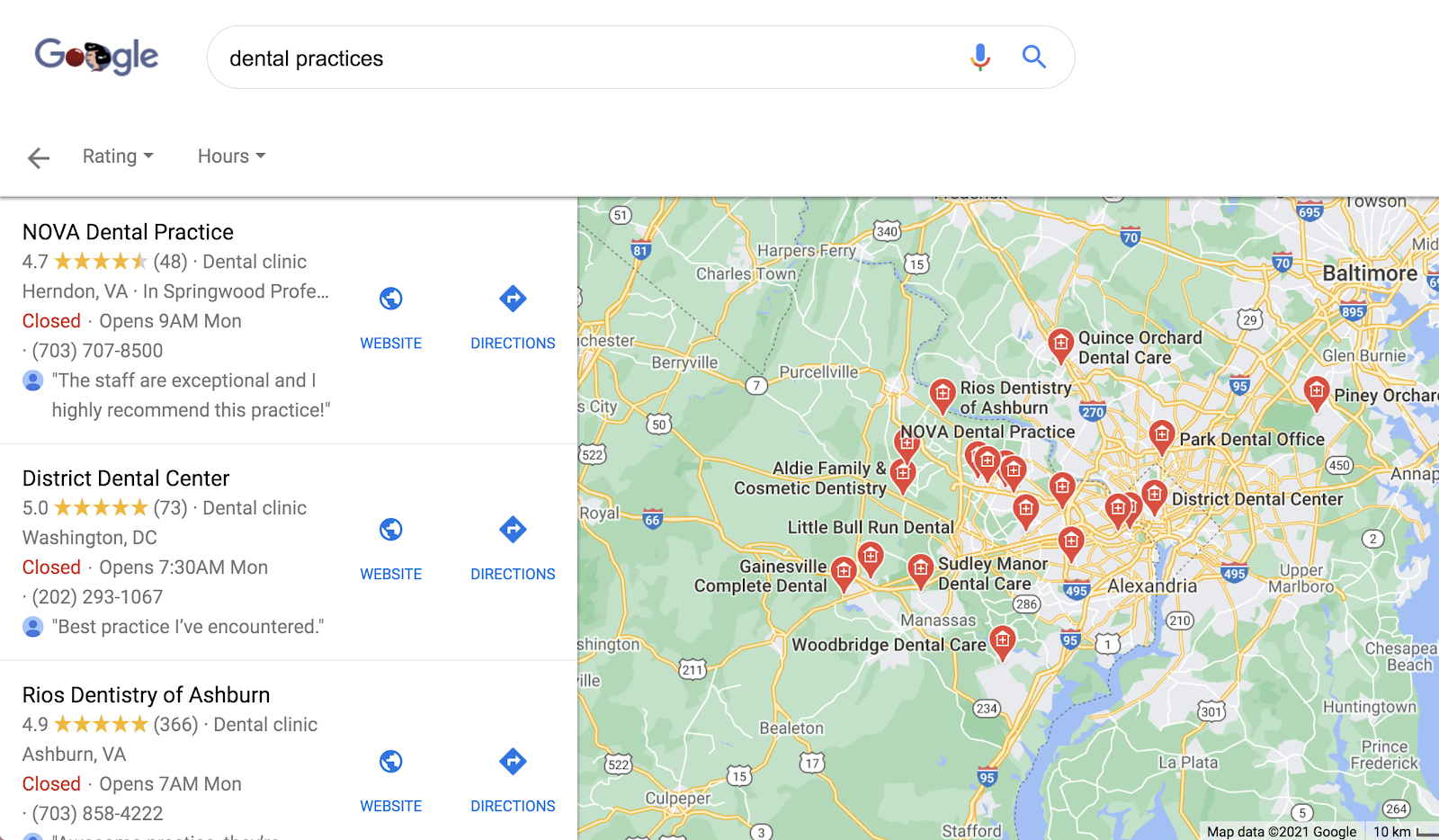 Why does Google My Business matter?
Make no mistake: If your dental practice is not on Google My Business, you're missing out on opportunities to generate new business.
By listing on Google My Business, you'll increase visibility. Google My Business levels the playing field and helps smaller dental practices to compete with larger offices. Even if you're competing with franchises or better-known dental practices in your area, you won't have to live in their shadow. A fully optimized Google My Business listing can get noticed and help you attract new patients.
How do you use Google My Business?
Let's discuss how to set up your Google My Business account.
Fortunately, setting up a Google My Business listing is pretty straightforward.
Step 1: Get a Google account.
You'll need a Google account to create your Google My Business listing. But don't worry. It's free. By signing up for a Google account, you'll get a lot of extras, including access to Google Drive (storage), Google Docs (online word processor), Gmail (Google's email service), and a lot more.
Go here to set up your Google account.
Be sure to select "To manage my business" from the drop-down options.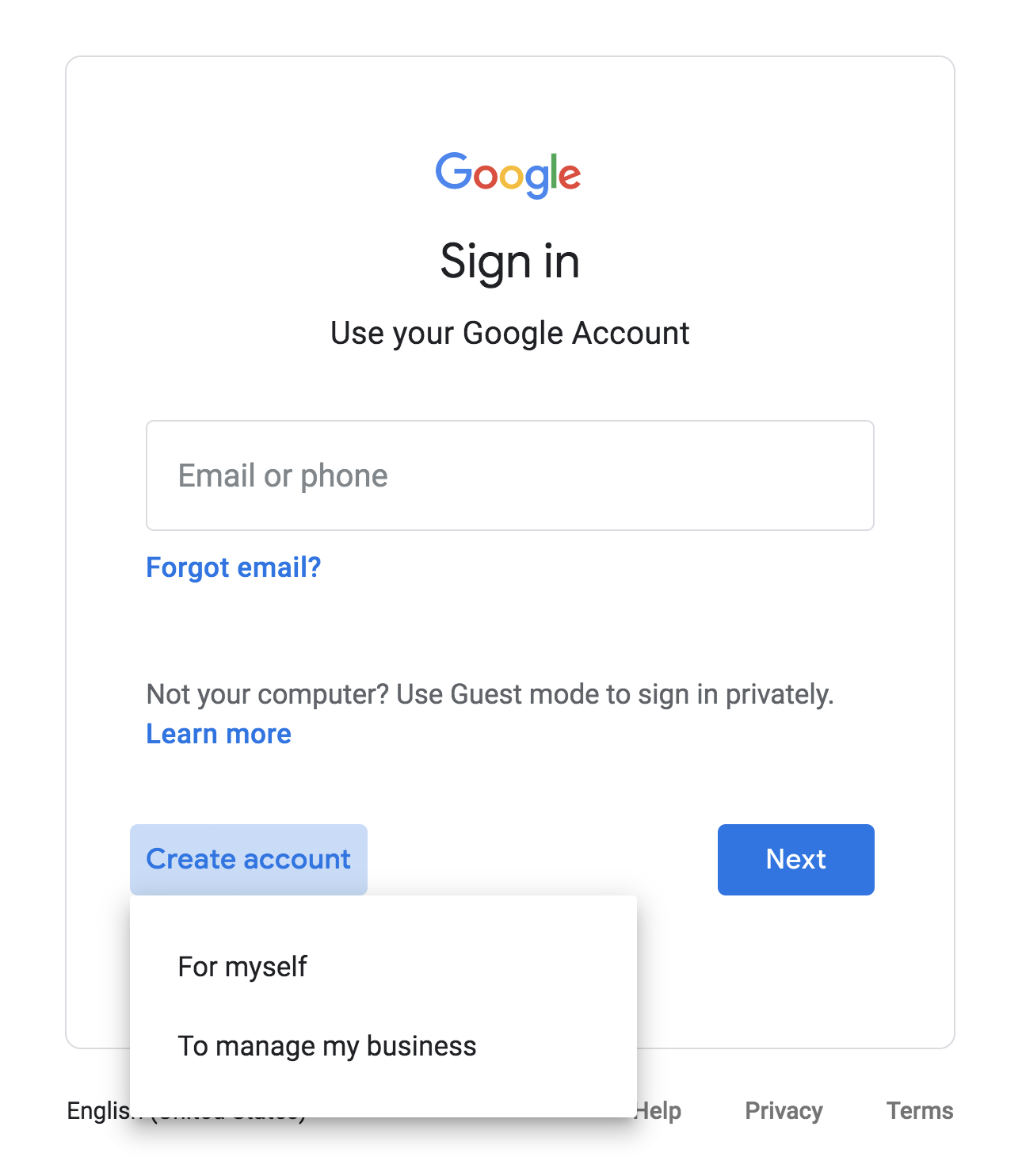 Step 2: Create your Google My Business listing.
Set up your Google My Business Profile by clicking here and following the prompts.
Note: If you have multiple locations, you'll need a separate Google My Business listing for each office.
How do you optimize your Google My Business listing?
Now that you've set up the basics of your Google My Business account, it's time to optimize your listing.
Google will prioritize meatier listings. In other words, Google wants you to add everything that your potential patient may want to know (such as hours of operation, monthly specials, and a list of the services that you provide).
Here are 11 creative ways to optimize your dental practice's Google My Business listing:
Add photos of your dental practice - This includes interior and exterior images. The more images you can share, the better. Be sure to add images of the reception area and patient care rooms. Prospective patients want to know what to expect from your facility before they arrive.
Add a cover image for your practice - This can be the exterior of your office or a portrait of your team. Choose an image that showcases your practice's unique personality.
Share photos of the services that you provide - Include informative illustrations and before and afters.
Upload a logo for your dental practice - If you have a logo, share it because it will optimize your Google My Business listing even more.
Add a video - Think of your video as a 30-second commercial. Introduce your practice to your prospective patients and give them a compelling reason to book an appointment.
Choose your listing category - Get specific on the types of services you offer. Don't categorize yourself as a dentist if you're an oral surgeon.
Share frequently asked questions - Provide quick answers to common questions that prospective patients may have about your service or practice. FAQs can be displayed on Google My Business listings, too.
Post news and special promotions - You can add special promotions (such as weekly specials) to your Google My Listings page, too. These posts will typically expire after 7 days, prompting you to continuously add new posts.
Link to your social media profiles - Google My Business will also share links to your social media pages, such as Facebook. So add links to your practice's social media profiles.
Encourage patients to leave reviews - Reach out to your current or past patients via email or in-person and ask them to leave reviews. Google tends to promote listings that have a lot of reviews.
Be consistent - One of the most important things you can do on your Google My Business listing is to be consistent with your contact information. Don't say "Road" in one place and "Rd" in another. Also don't change the practice's name (i.e., using abbreviations or leaving out a word or phrase). And finally, don't use multiple numbers. Choose one main number and stick with it across the board (on your Google My Business listing as well as on your website).
Final Thoughts
Google My Business is a great tool for dental practices to get found through Google searches. Even if you can't compete on organic search, you can use Google My Business to level the playing field.
Use the above tips to optimize your Google My Business listing and grow your dental practice.

Great Dental Websites helps dentists realize the greatest return on their local digital marketing investment through world-class marketing services and an intuitive, dental-specific website management platform. Since 2007, we have designed unique, modern dental websites for over 900 practices in the US, Canada, Australia, and New Zealand.