While 2020 seems like one giant, house-arrested blur, Great Dental Websites had the opportunity to create some really cool dental website designs for our clients. Like our best dental websites of 2019 list, I've rounded up some of my favorites and am excited to share them with you. In no particular order, here are some of the best dental websites.
#1 Gardner Springs Dentistry
The minimalist, neutral design trend is easy to get wrong and can look cheap if you aren't careful. But Gardner Springs Dentistry nailed it in their practice design and brought the feeling into their website design through their color palette and custom photography. I love the play on textures in this design. Like their office (stone, leather, wood, etc), their site has depth and textures via overlays of photos, fun outlines on buttons, and simple animations.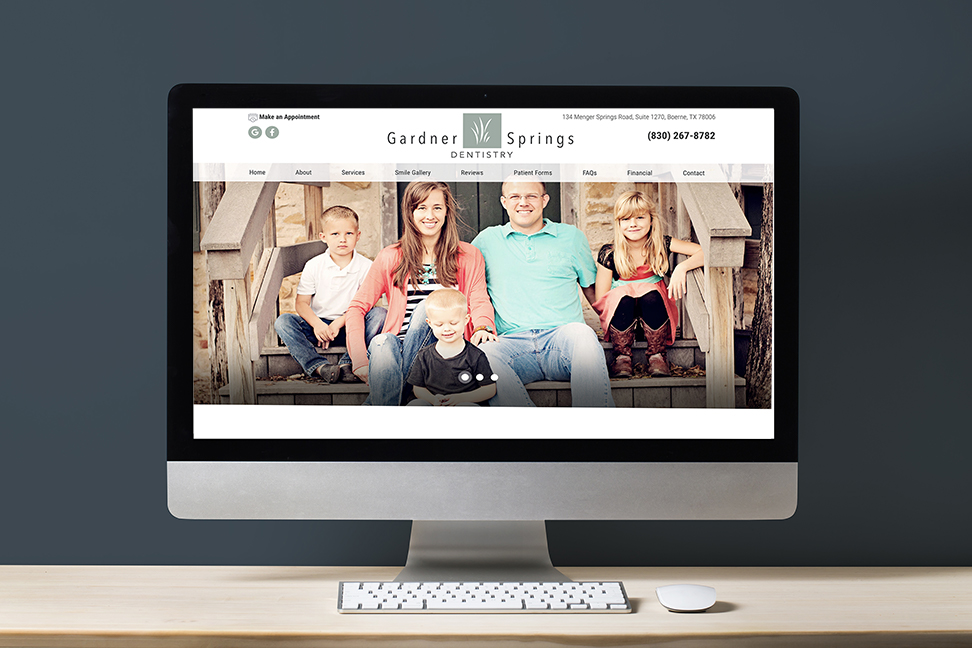 #2 Bagley Family Dental
Big, bold colors aren't generally found on dental websites, so I suppose that is a part of what initially drew me to this site. I know I'm biased, as a Coloradan I love the imagery of Colorado, especially the custom images of his family enjoying a lovely fall afternoon.
Aside from the Colorado love, I enjoyed their welcome video that can be found just under the practice testimonials. It walks you through the first visit, why you should choose Bagley Family Dental, and introduces you to the staff. Whatsmore, he has actual patients who appear in the video to give more weight to his video.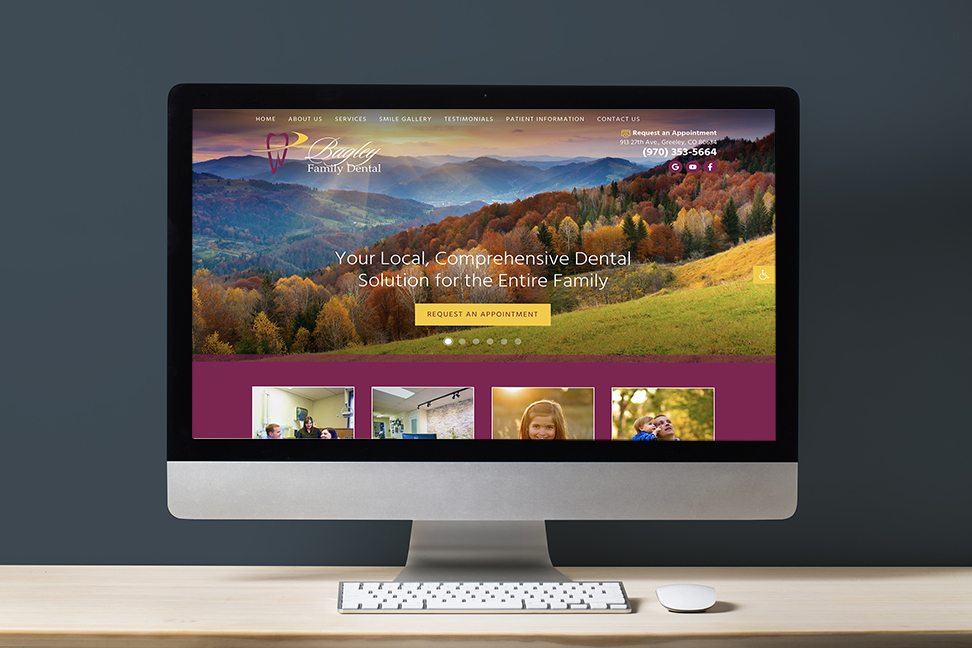 #3 Patrick Fields DDS
This one snuck in at the very end of the year and I'm glad it did. Blue is both my favorite color and a favorite of dentistry as a whole (guess I picked the right industry to be in!), and I love the gray-ish blues used throughout the site. The simplicity of the design is what makes it stand out to me -- there is very little clutter or things that could distract me, so my eyes are immediately drawn to the concise, bold statements such as "Providing Dental Excellence" and "Count on Us for the Care You Need."
If you scroll down to the content area, you'll also find a professional shot practice welcome video so patients get to see a tour of the practice as well as see many of the staff members. I know we harp on the importance of videos all the time, but when you see a well-done video on a dental website, you automatically feel more connected to the practice than even the best of photos would allow.
#4 Wilson & Fiquett Family Dentistry
This site stood out to me because it has a more formal feel than most of our sites, but it's still warm and inviting. The use of golds, grays, and black give a clean, professional vibe without coming off as stuffy or dated, which can be a hard look to achieve. The copywriting is welcoming and natural, which, combined with the design, seems like it would appeal to slightly higher-end clientele in the Fort Payne area.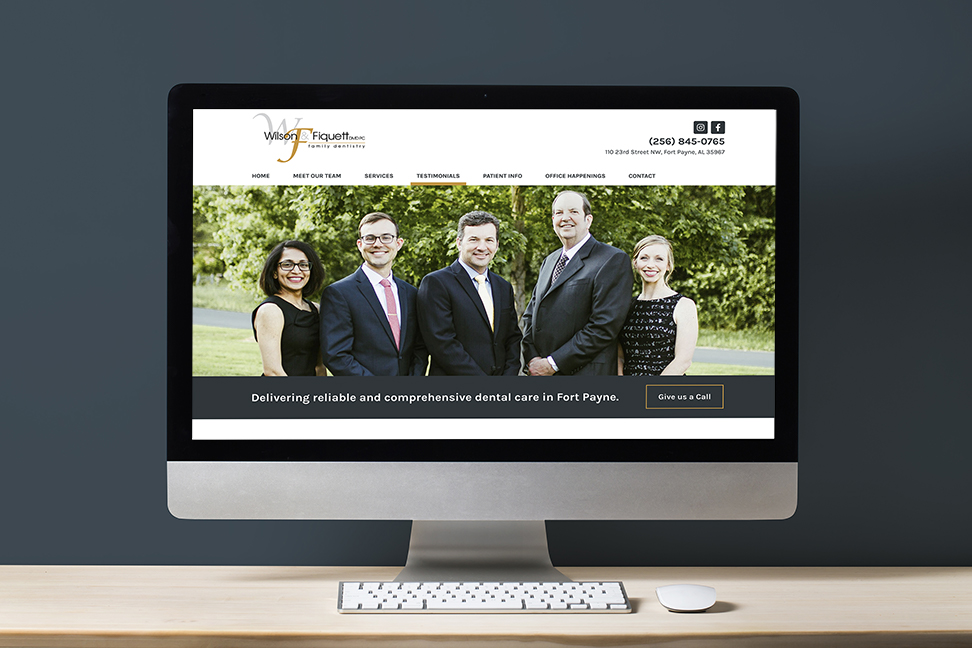 #5 Lori Logan DDS
This site features a video banner that introduces Dr. Logan and her team right off the bat. You can see her interacting with patients and the team so you start to build that connection immediately. The site also offers online booking - something I wish all practices would start to use as patients start to demand these conveniences.
I think my favorite part of the site is the animation on the services overview on the home page. Little design elements can make a big difference. Something that was simple and easily overlooked catches your attention and makes you pay attention. Go ahead and try to hover over them without going back and forth a few times to see them animate...you know other site visitors will, as well!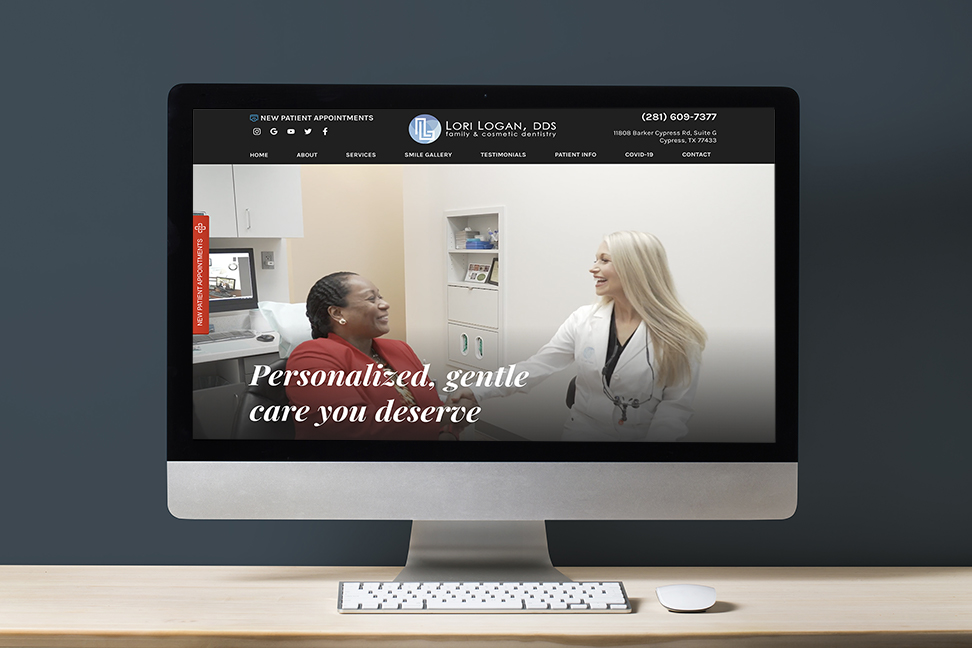 #6 Children's Center for Dentistry
Pediatric sites are probably our most fun ones to design (though we've done some really fun general sites, too!). This site was actually a redesign for Dr. Dietz, as his old design with Great Dental Websites was quickly approaching 8 years old. We took what was now an outdated design and gave him back a fun, playful pediatric site. Many of our peds sites are colorful and bright, but Dr. Deitz wanted to stick to a more sophisticated (yet cute) color scheme that matched his branding and practice atmosphere.
#7 Dr. Katie To, Center for Integrative Wellness and Cosmetic Dentistry
If you saw any of our marketing last year, you are probably familiar with Dr. To's site already. This was instantly a staff favorite when it launched. Like Dr. Dietz's site, Dr. To's was a redesign to update her aging website.
Dr. To wanted a bold but feminine design that really showcased her team. The custom photography and small details, like the flower when you hover over the navigation menu, make the site really unique and just downright pretty. I think that it really showcases how custom photography can really make a dental website unique.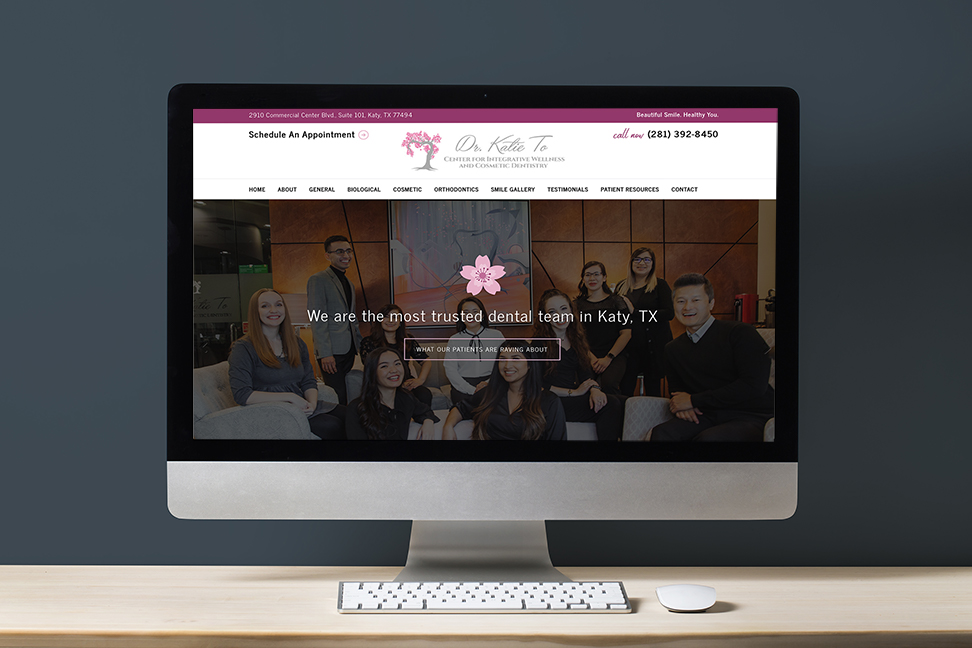 #8 Platte Canyon Dental
I love having 2 Denver-area dentists on this list! Dr. Christina Linn is the proud owner of Platte Canyon Dental, a modern and airy practice in Littleton, Colorado. With deep blues and greens, custom photography of her family, and easy to find information, this site shines much brighter than most of the local competition.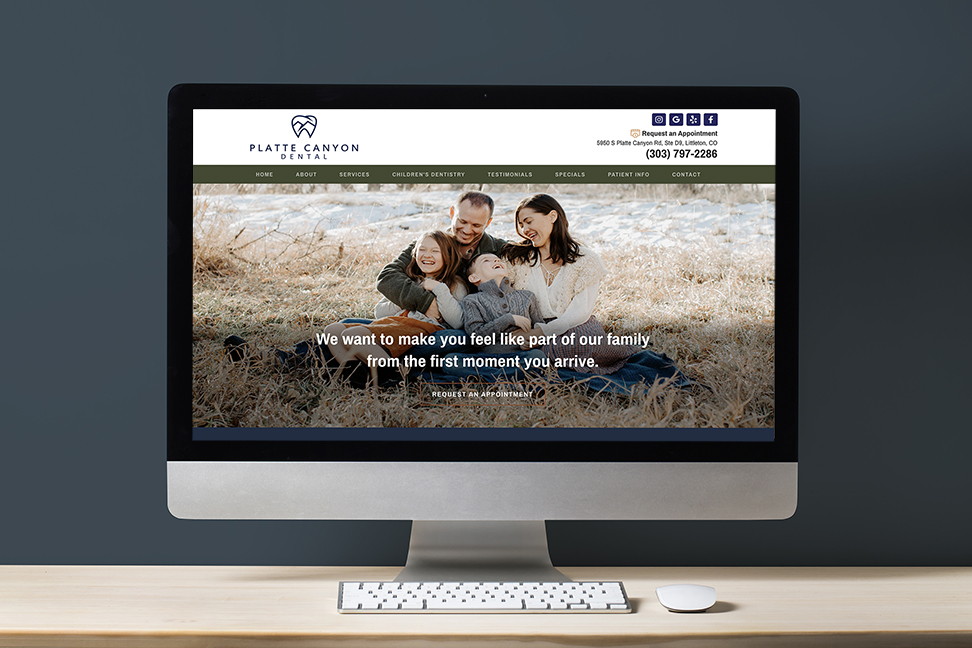 #9 Alexander Brao, DDS
Dr. Brao has the quintessential Florida dental website design. A long pier, beautiful blue water, and pictures of palm trees bring some color and interest to the calming color scheme of the site. You'll also see some cool details when you interact with the site, including his pelican logo when you use the navigation bar and some background elements to add more depth to the design.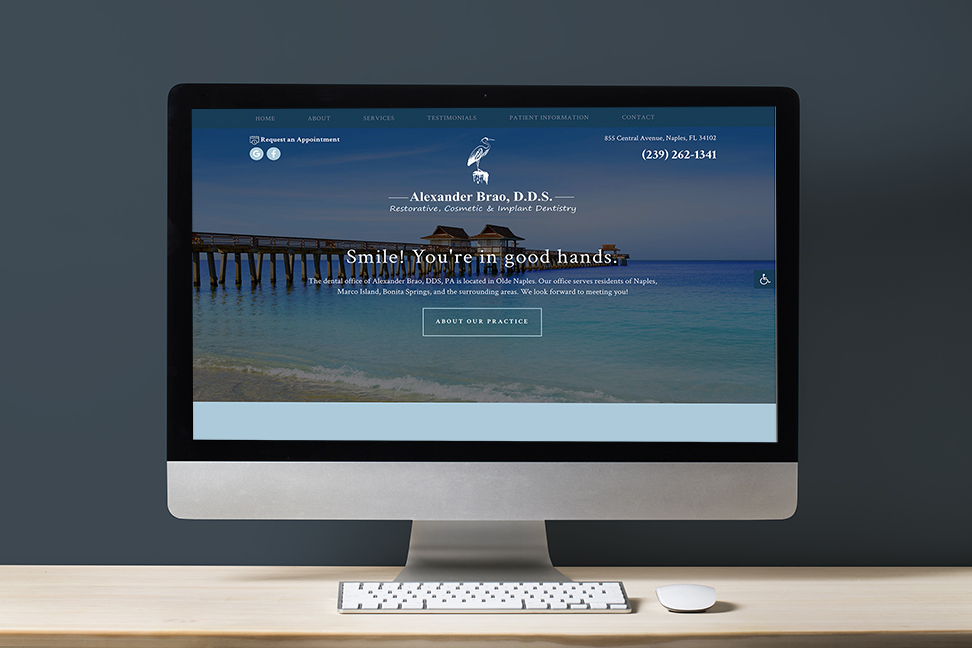 #10 Los Gatos Family Dentistry
If you've ever had the chance to spend time in the beautiful hills of Los Gatos, you know what a picturesque and historic town it is. Dr. Patricia Phan wanted her site to reflect the local scenery and colors of the area, with muted blues, greens, and even burnt oranges - definitely not a color we use a lot in dental websites.
Custom photography was prominently integrated into the design, allowing patients to start to build a connection with her and her practice before they make first contact. If the photos and professional, welcoming copy weren't enough to convince a patient to choose Los Gatos Family Dentistry, then the compelling patient testimonials will be sure to push someone over the edge.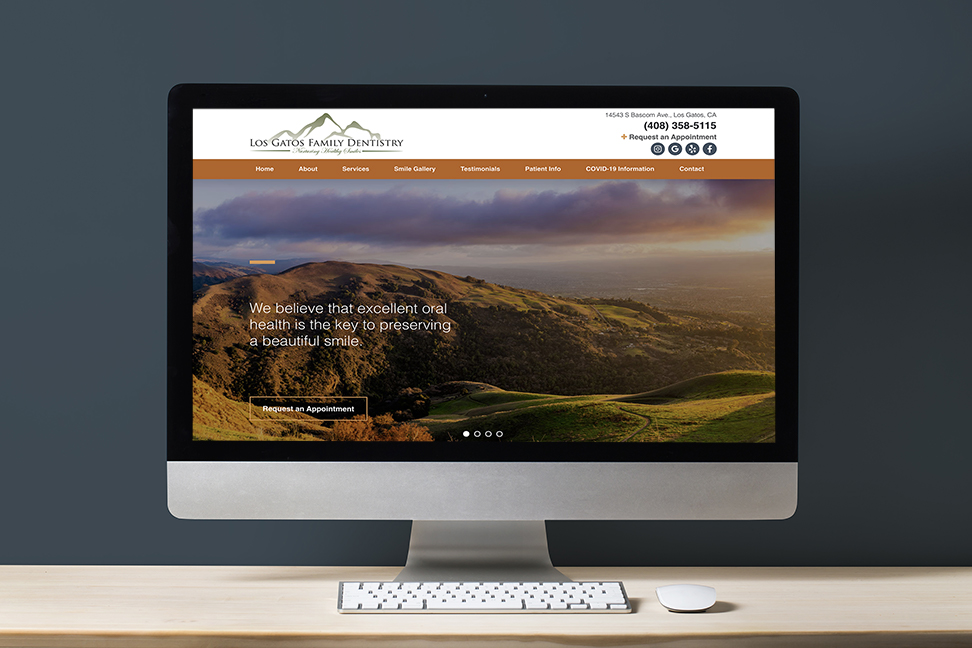 If it's time for you to give your current design a spruce up or a total makeover, shoot us an email or give us a call at 720-399-7071.