Have you ever wondered why some of your SEO rankings fluctuate so much more than others each month? Why does your position for "dentist near me" change seemingly every day while the position for your practice name stays so consistent? There are several potential explanations for this, but one of the most common is that you are comparing two different types of rankings: Map Pack (Local) and Organic.
What Is the Map Pack?
The "Map Pack" refers to the top position in Google's local search results, displaying local businesses and their locations on Google Maps using pins. SEOs often refer to rankings on the map pack as "local" rankings because they generally show up on the SERP for targeted, local searches. Map pack rankings pull directly from your practice's Google Business profile, and they can be a crucial factor in attracting new patients to your practice because they usually show up for transactional, location-specific searches like "cosmetic dentist near me."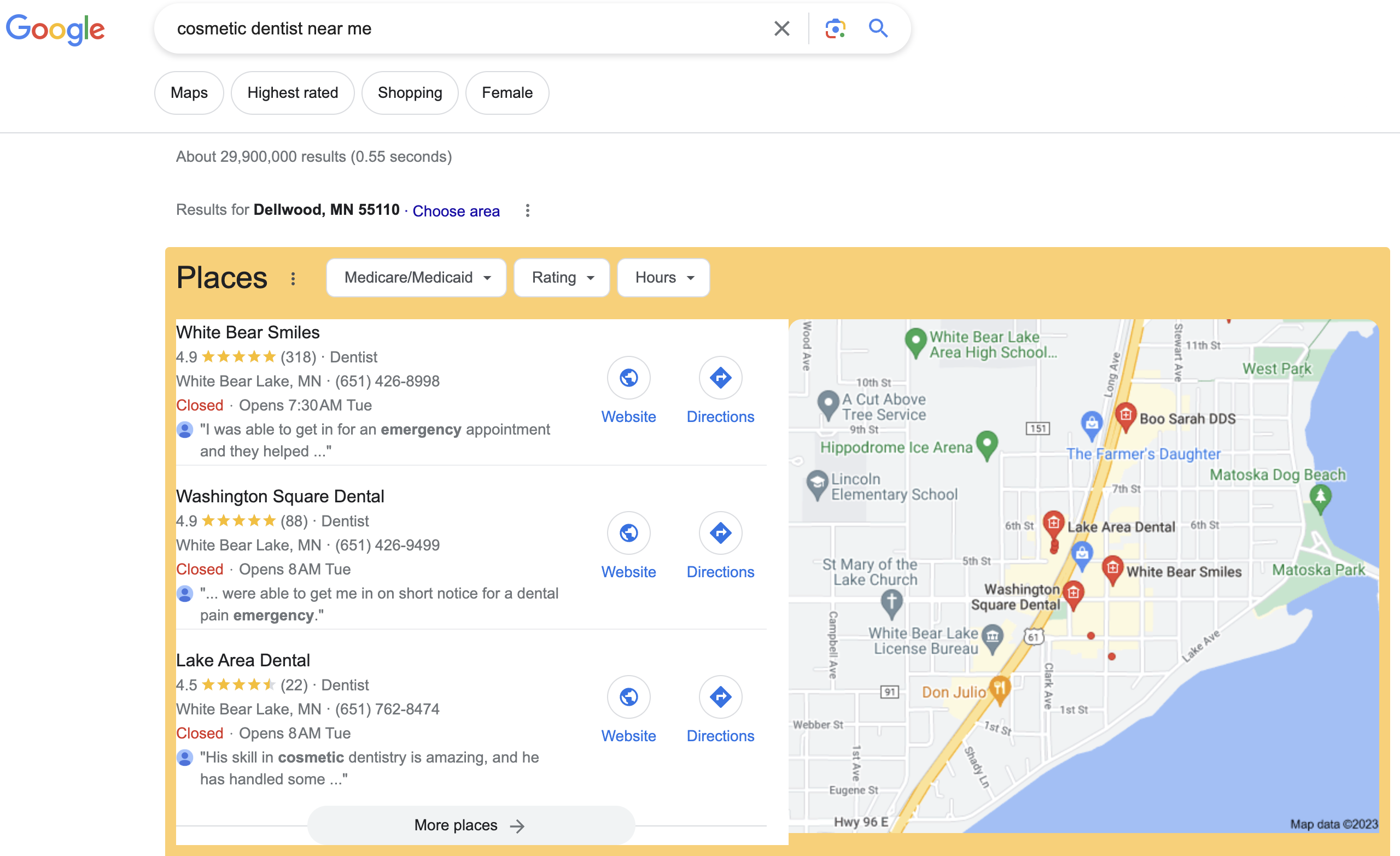 When people are on the hunt for something local online, the Map Pack is their go-to guide. Whether they use location-based keywords like the name of the town or simply type "dentist near me" into a search engine, the results they receive can significantly influence their decision-making process. In fact, a staggering 76% of smartphone users who search for a local business end up visiting one of the results within just 24 hours. This makes it abundantly clear that optimizing your online presence for local searches is paramount, especially for dental practices looking to stay competitive.
What Influences Map Pack Rankings?
In general, your practice's Map Pack rankings will be positively influenced by all of the typical SEO best practices we recommend (and practice) at GDW. Getting a responsive, user-friendly dental website, writing compelling content, updating your metadata, creating and updating your Google Business Profile, and performing preliminary keyword research are all excellent steps that will positively impact your local and organic rankings. Once you have the fundamentals taken care of, there are still a ton of potential reasons why your Map Pack rankings may fluctuate:
Your Google Business Profile
This one might seem obvious, but your Google Business profile is a prerequisite for ranking in Google's Map Pack. Google Maps gets all of its information from your GBP. Once your listing is live on Google Maps (Check out this post for help navigating GBP's updated dashboard), ensuring your information is current is essential. The key is to verify that your NAP data (name, address, phone number) matches exactly with the information on your website and other places where your business is mentioned across the internet.

Business Hours
Map Pack rankings dynamically respond to changes in local business hours. Google prioritizes displaying listings that are open for business during the user's search time. Regularly update your GBP to reflect accurate business hours, ensuring alignment with your actual operational schedule. Immediate improvements in Map Pack rankings can often be observed by correcting any discrepancies in this information.
Search Terms
Have you noticed that your Map Pack rankings only show up certain types of keywords? The Map Pack is generally more likely to display for local transactional searches rather than informational ones. For example, searching "dental implants near Boulder, Colorado," you will almost certainly see a Map Pack on the SERP. But if you search "how do dental implants work," you will likely see a well-optimized organic result, likely containing FAQ schema. If you want to maximize new patient growth, targeting your SEO campaign towards both of these funnels is paramount.
Online Reviews and Ratings
Positive (and negative) online reviews and high ratings are crucial in influencing Map Pack rankings. Google values user feedback and considers it when determining the relevance and reliability of a dental practice or any other local business. Encourage satisfied patients to leave reviews on your Google Business Profile and other relevant platforms. Addressing negative reviews professionally and promptly can also mitigate potential negative impacts on your Map Pack standing.
Personalized Search Results
Search engines, notably Google, personalize search results based on individual user behavior, location, and search history. This approach is designed to foster user satisfaction with the search engine, and it will often lead to entirely different search results for different users.
Why Are My Local Rankings Inconsistent?
You may have noticed some discrepancies in your local rankings when you spot-check them via direct searches versus reviewing them in your monthly SEO report. Several key factors can lead to these differences:
Location & Hour Differences
Spot-checks will show specific results based on the searcher's exact location at the precise time of their search. Meanwhile, our SEO reports aim to present a more globalized perspective. If you are spot-checking during a different time, or from a slightly different location than our rank-tracking software, you will likely see different results.
Google's Local Pack Rotation:
Google often rotates businesses within the Map Pack, showcasing different listings for the same query over time. This rotation is designed to offer users a diverse set of results. During spot-checks, you may encounter different businesses in the Map Pack compared to the businesses highlighted in an SEO report.
We're Here to Help
If you find yourself navigating the complexities of local SEO or have questions about optimizing your online presence for dental searches, the GDW SEO team is here to guide you! Contact us today, and let's enhance your dental practice's standing in the competitive digital landscape.