Mind if we get technical for a moment? We need to talk about SEO for your dental practice's website. It's important and it could be costing you hundreds of thousands of dollars in business each month.
SEO, short for search engine optimization, plays a crucial role in your site's visibility online.
If you're not implementing good SEO practices, your website is basically dead. It might as well not exist. SEO is that important.
In this post, we'll give you a crash course in SEO, specifically what it is, why it's important, and how to use it to generate more new dental patients for your practice.
Let's get started.
1. What is Dental SEO?
Dental SEO is the process of improving key elements of your website to appeal to search engines and search engine users. The ultimate goal of SEO is to increase the visibility of your dental practice's website in Google's search results.
In this post, we'll focus on Google because it's the dominant search engine for internet users (with over 92% of market share). But what works well on Google generally works on Bing, Google's only serious competitor.
2. Why is SEO Important?
To understand why SEO is important, let's discuss how SEO works.
When someone needs a dentist, they'll typically search for "dentists in [city, state]." For example, "dentists in Hackensack, NJ." They may also search for "dentists near me." This is called a query.
Google will then pull up a staggering amount of search results to match that query. In some cases, it may be millions of results.
To test this out, do a quick Google search now for dentists in your city. How many results pull up?
Probably a lot.
Here's what we pulled up:

Obviously, there aren't 7 million dentists in Hackensack, NJ. But there are a lot of websites that are competing for the keyword phrase "dentists in hackensack nj." So, how does Google determine which website to show first?
It uses a complex set of rules, known as an algorithm, to determine where to rank each website. Google's algorithm carefully evaluates every website that it indexes. The algorithm relies on over 100 factors to determine where a website should rank on a search engine results page. (This is the page that shows up after you've entered a search on Google.)
The search engine results page can be broken into 5 sections:
1. Ads - At the top of the search engine results page are advertisements. These are listings that paid for prime real estate on the search engine results page. They should be relevant for the keyword, though. You shouldn't see an ad for shoes pop up on a results page for dentists. You can set up an ad campaign for your dental practice through Google Ads.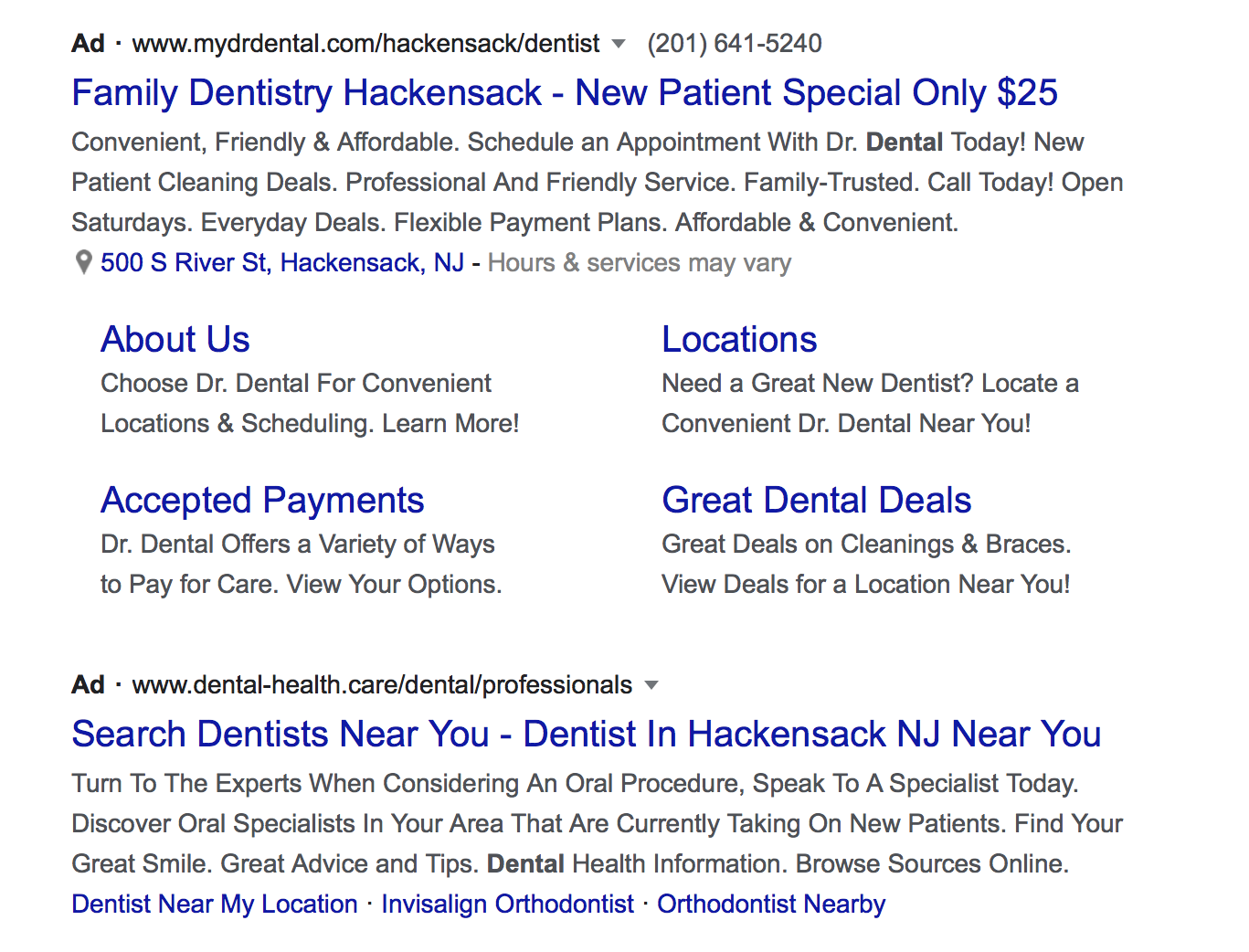 2. A map and local listings - Under ads come local listings. These listings have been optimized for local search. We'll explain how this works later in this post.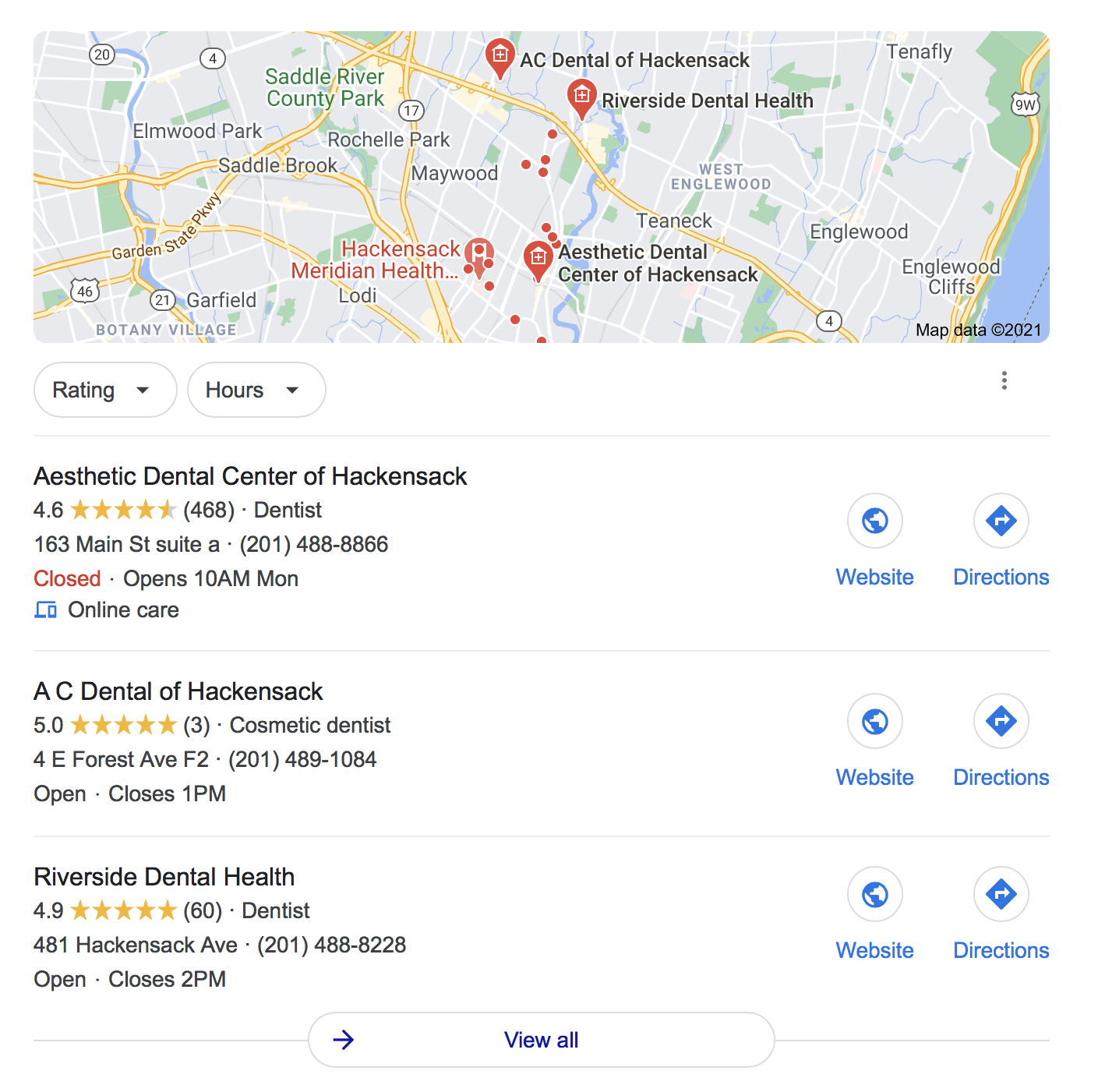 3. Organic listings - These are unpaid listings that naturally show up in response to a Google search. Your SEO practices can impact where your website shows up in the search results. It could be 1 or 1,000.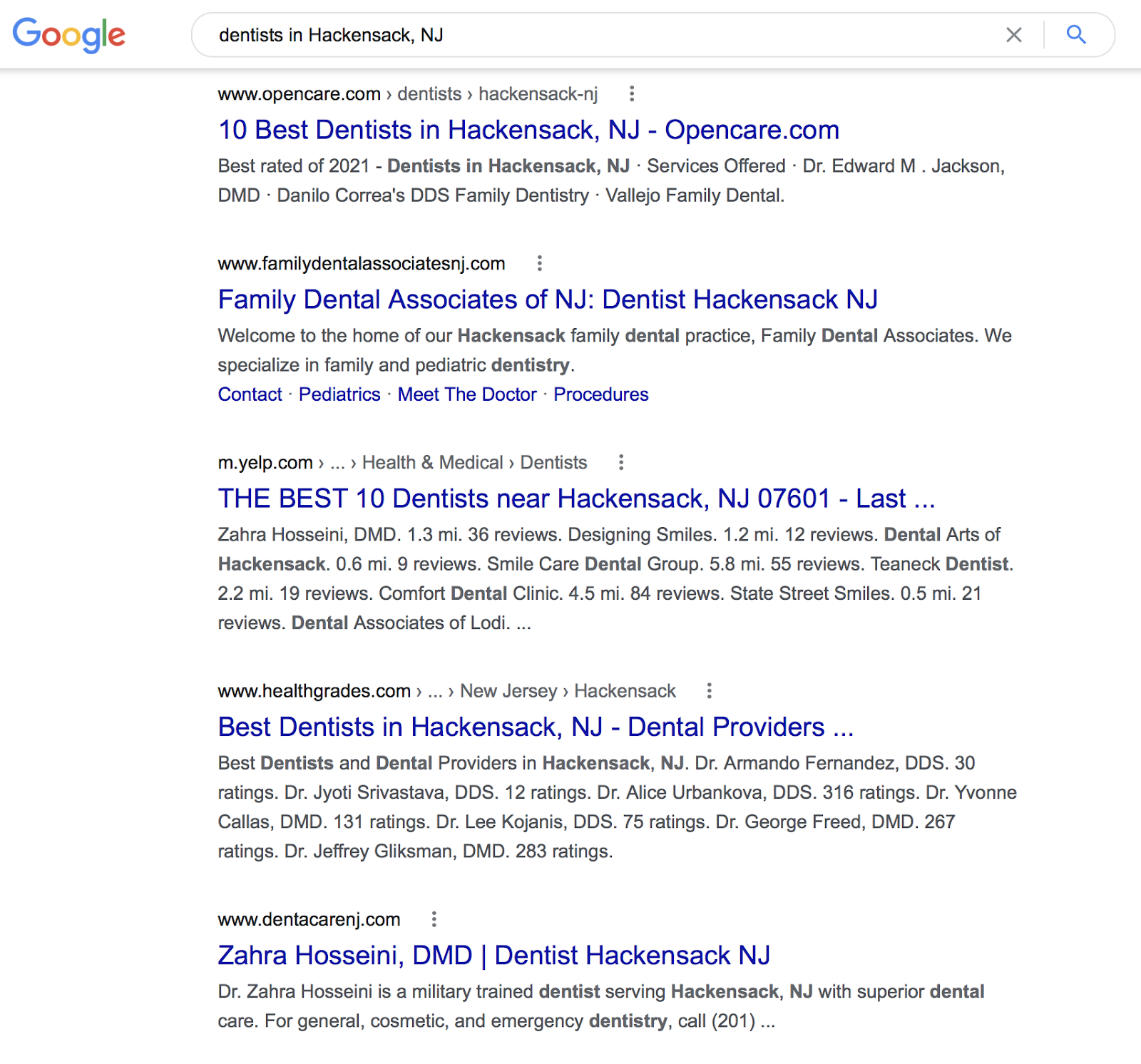 4. Ads - More ads show up near the bottom of the search results page.
5. Related search terms - This is a list of other keywords that the search engine user may wish to try if their original search term didn't give the desired results. (For example, "best dentist in Hackensack, NJ" or "dentist near me.")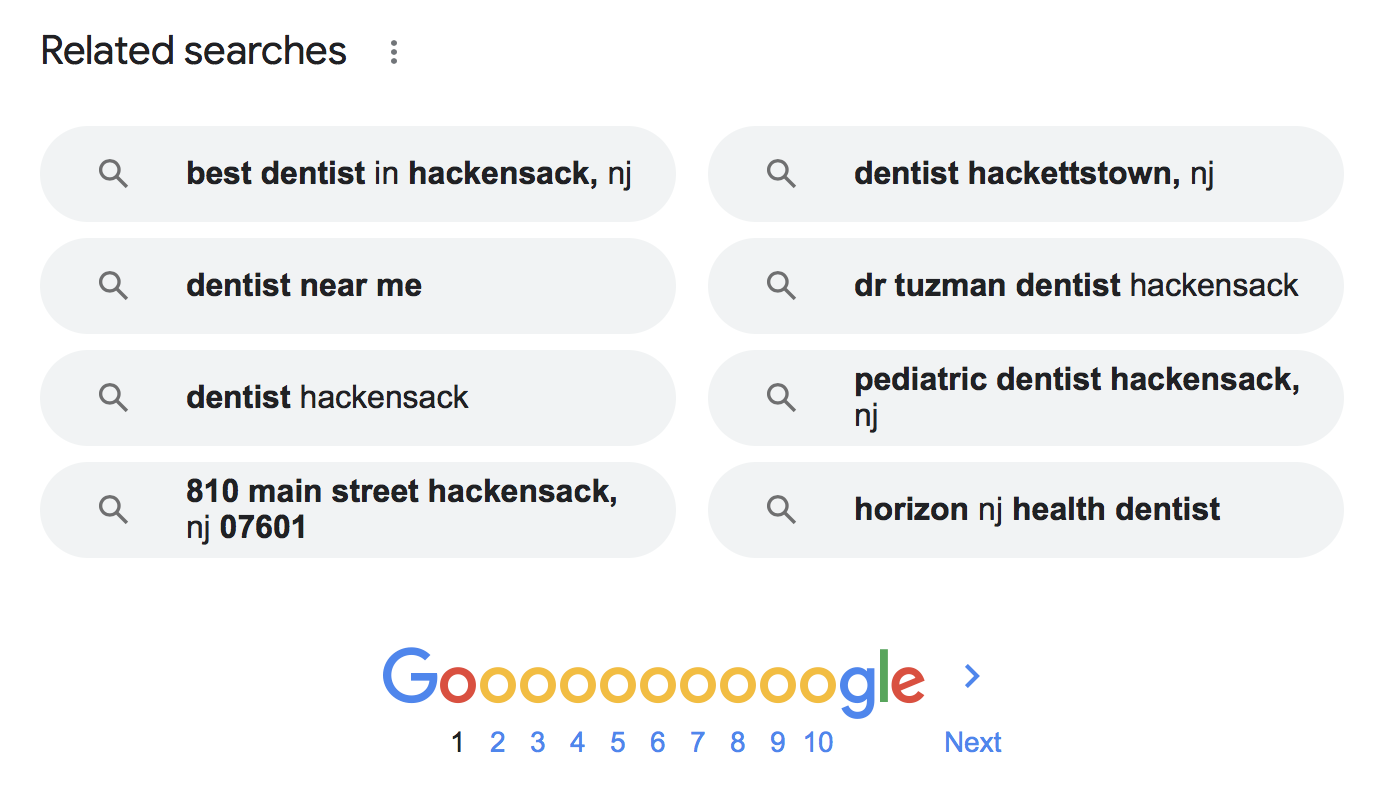 By optimizing your website for search engines, your site will show up within the organic results (section 3).
But SEO isn't just about making it into the organic results. As you see in the above example, there are millions of organic results. Your goal is to make it on page 1 of the search results for a particular query.
Only 10 listings (sometimes 7) make it onto page 1 of the search engine results page.
While there are hundreds or even thousands of pages that return, only page 1 matters. This is because the majority of users never click past the first page.
So, whether your dental practice's website is number 11 or number 11,000, it's basically the same thing. Over 90% of search engine users won't see your listing.
But, if you implement proper SEO practices, your website will rank high on the search engine results page.
If you had a dental practice in the Hackensack area, your SEO goal would be to rank as high as possible on the search engine results page for the query "dentists in Hackensack, NJ." Of course, you can substitute Hackensack for your own location.
By implementing good SEO practices, you can:
Attract visitors to your website - You can target specific keywords and then rank within the top 10 results and generate new leads for your dental practice through organic online search.
Keep visitors on your website for longer - Through clean navigation, internal linking, and focused content, you can keep visitors engaged on your dental practice's website.
Educate visitors about your services - By writing informative content that fully answers your users questions, you can educate and keep prospective patients on your site for longer.
Turn visitors into new patients - Through good SEO practices, such as adding your name, address, and phone number to every page of your website, you can ensure that visitors become new patients.
Search engines only want to share valuable websites with their users. Search engines use a set of factors to grade your website and rate its potential value to search engine users. When it comes to your website, both you and Google want the same thing: To create the best experience for your site visitors. If you optimize your dental practice's site for the search engines, you'll ensure that your visitors have a good experience on your website.
3. How to Improve Your Search Engine Ranking
Now that you have a solid understanding of what SEO does and why it's important, let's discuss how to optimize your dental practice's website for the search engines.
Adopt a Mobile-First Mentality
The majority of internet traffic comes from mobile devices, such as smartphones and tablets. Your dental practice's website should look good on smaller screens. That's actually more important than looking good on larger, desktop screens.
Increase the Loading Speed for Your Dental Practice's Website
Another important SEO factor is your site's loading speed. If your site takes too long to load, your new visitor will simply click on the back button. To optimize your site for search engines, make it faster. You can do that by reducing image sizes, caching the site, and improving the structure of your website.
Choose Keywords
Keywords play a huge role in your SEO. Keywords are the words that people type into the search bar. Examples of dental related keywords include: dentists, tooth pain, root canal, how to whiten my smile, what to expect during a wisdom tooth extraction, etc.
Make a list of the keywords you'd like to rank for on Google. There are two ways to do that. Either you can:
Start with the services you provide (i.e., cleaning, crowns, dentures, whitening services, all-on-fours).
Start with the people you serve (i.e., denture-wearers, kids, family, emergencies).
Next, add your city and state to the keyword to ensure that you rank for local searches.
For dental practices, the only search that matters is a local one. If your practice is located in San Francisco, it doesn't need to show up in a local search for Bangor, Maine.
You can improve your practice's local SEO by signing up for Google My Business.
Google My Business is a free service provided by Google that allows you to optimize your local listing. Fully fill out your listing, including your practices address, phone number, and hours of operation. You can also add images. The more thorough, the better. Google will then add your dental practice to their map and local listings which show up above the organic listings in the search engine results page.
Add Keywords Everywhere
Once you have keywords that you'd like to rank for, you need to ensure that you use those keywords on your website. You can add keywords in following places:
Your site's URL (i.e., honoluludentistry.com)
Your page's URL (i.e., honoluludentistry.com/wisdom-tooth-extractions)
Your page's title (i.e., What to Expect During a Wisdom Tooth Extraction)
Your meta description (this is the small paragraph that appears on the search engine results page under your website and page title)
Your image titles (i.e., honoluludentist.jpg)
The alt tags for your images (the alt tag describes your images)
Within your text (share your keyword regularly and naturally throughout your text, and especially within your headings)
Final Thoughts
Good SEO improves your website's visibility on search engines. People don't just stumble upon your website randomly. The algorithm gods at Google have determined that your website will best answer their user's query.
But SEO is complicated and never done. As search engines get smarter, you'll need to continue to optimize your dental practice website to meet their standards.
The good news is that we'll do that for you automatically. When you get a website through Great Dental Website, your website will always be up-to-date and optimized for the search engines.

Great Dental Websites helps dentists realize the greatest return on their local digital marketing investment through world-class marketing services and an intuitive, dental-specific website management platform. Since 2007, we have designed unique, modern dental websites for over 900 practices in the US, Canada, Australia, and New Zealand.