When was the last time you looked at your FAQ (frequently asked questions) page? Unfortunately, many people neglect this page of their dental website since it doesn't always provide the same rate of return that a service or home page does.
However, an FAQ page can be extremely valuable when it provides the correct information. After all, this is the page your patients will visit looking for answers about specific services or topics they're interested in. So, if your FAQ page provides them with answers and information they're looking for, it will build their trust in you, and scheduling an appointment at your dental office may be their next step.
Now that you know how essential your FAQ page is to your website, let's talk about what makes a great FAQ page and which questions you should talk about on your page.
Crafting an Effective Dental FAQ Page
Following a few simple tips can help you update and rejuvenate your FAQ page, making it drive more traffic to your website and provide more helpful information for your patients.
#1 Use Real Questions From Patients
To be effective, your FAQ page needs to be helpful. Therefore, taking some time to determine what type of information your patients are looking for will help you create an informative, relevant, and helpful FAQ page that will potentially lead to conversions.
Think about your interactions with your patients. What are some of the questions you hear most? You can also ask your staff for suggestions on questions they commonly hear from patients and incorporate them into your FAQ page.
#2 Keep It Organized
Don't leave current or potential patients frustrated by making them scroll through tons of questions to find the answers they need. Instead, organizing your FAQs by service procedure, financial questions, or other specific categories will help patients find the information they need quicker.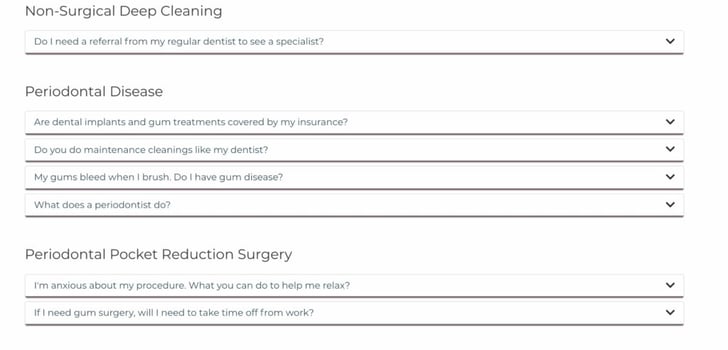 #3 Optimize for SEO
Your FAQ page is a great spot to include keywords and questions vital to your search engine ranking. For example, using keywords like "dental implants in Tampa, FL" when answering a question about dental implants could help to improve your visibility for that keyword, which means more new patients will find your dental website online.
If you have an ongoing SEO campaign with Great Dental Websites, our SEO team will do this work for you by researching relevant questions that patients are searching for in your area and creating FAQs to answer them. Our SEO team can also provide you with up-to-date data about monthly search volume and keyword competition for potential FAQs in your area.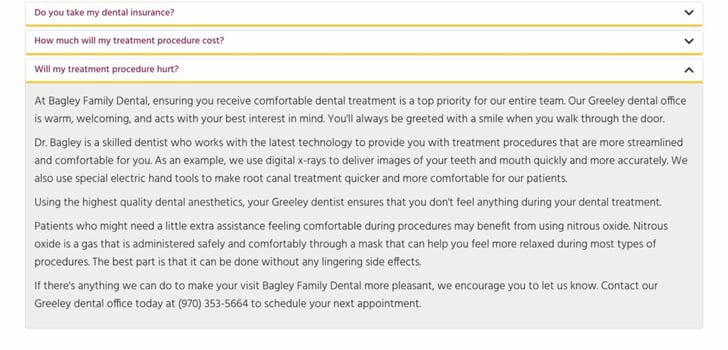 #4 Routinely Update Your FAQ Page
Information is constantly changing, and it's essential to keep your FAQ page updated and relevant for your patients. Visit your FAQ page often and see if your current questions are updated.
When you add new products or services to your dental practice, be sure to highlight them on your FAQ page by answering questions about them.
What Makes a Good FAQ?
You've formatted your page. Now let's talk about how to write FAQs that are useful for your patients. First, we discussed determining the right information to provide your patients. Once you've figured that out, present it in a question-and-answer format. Your answers don't have to be lengthy, just enough to provide the relevant information and perhaps include a keyword or two.
Your FAQs can be a great way to give patients quick snapshots of the services you provide. Think of the common questions you hear about Invisalign or dental implants, for example, and then answer those questions as if you were speaking to a potential patient about the treatment.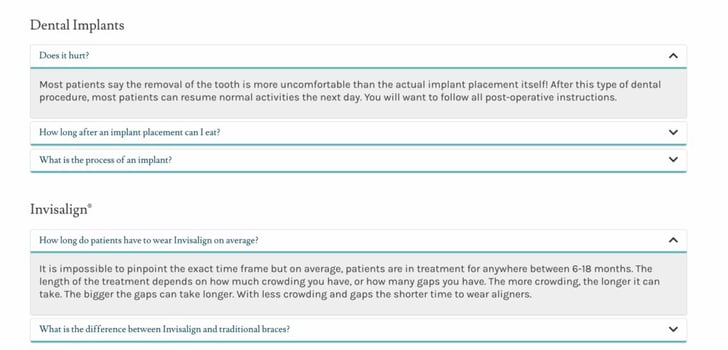 Here are a few ideas for common questions a dentist might hear that can be great content for an FAQ page.
How often should I visit the dentist for teeth cleanings and checkups?
Is a rinse or mouthwash helpful?
Why do I need teeth cleanings and dental exams?
Are dental x-rays safe?
What is gum disease?
For example, you could group these questions under the heading of "Preventive Dentistry."
Then you might have an "Invisalign" heading with these types of questions:
How long does Invisalign treatment take?
How should I clean my aligners?
How much does Invisalign cost?
What are the advantages of Invisalign over braces?
Using Google to find commonly asked questions can also be helpful. Google's suggested searches are a great way to find out questions that patients are searching about your service or topic. Once you have Googled a question, you can also use the "people also ask" section to find even more relevant FAQ topics.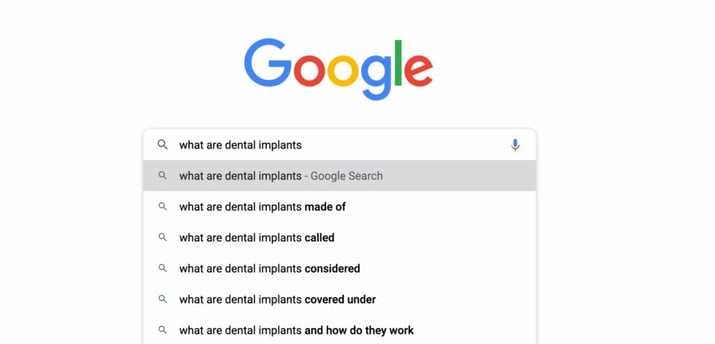 You can see that it's easy to create relevant and informative questions and answers that help patients get the information they're looking for quickly. Your FAQ page can also help you build trust with your patients as they see you have the knowledge and expertise they're looking for.
Do You Have Questions or Need Help With Your Marketing Strategies?
Hopefully, this inspires you to examine your FAQ page and make some upgrades if you need to. It doesn't have to be time-consuming, and it can make a big difference in your SEO rankings and patient conversions.
If you have questions about your FAQ page or any other aspects of your marketing plan, contact your team at Great Dental Websites. We're here to help!

Great Dental Websites helps dentists realize the greatest return on their local digital marketing investment through world-class marketing services and an intuitive, dental-specific website management platform. Since 2007, we have designed unique, modern dental websites for over 900 practices in the US, Canada, Australia, and New Zealand.