Looking for something new?
While a steady paycheck is obviously the main reason for getting a job, where you work matters too. We've worked hard since our early days to create a company where people can enjoy flexibility and maintain enough independence to do their jobs well.

We won't BS you with the "we're like a family" spiel because we all want to do our jobs and then have our own lives. Many of our employees have formed friendships outside of the office, but others are happiest keeping their social lives independent of work. Either way works!

So who are we looking to attract and retain?

Our best (and happiest) team members are those who are willing and able to think beyond the status quo. Several people on our team have introduced new services, fixed process and procedural issues, and even created new roles for themselves within the company. If this sounds like you, keep reading to learn more about what we can offer you!

Our Values
We hold a few core values as a company, but most of them boil down to our first one: "Be transparent, honest and conduct your business with integrity." What does that mean to us?
Transparency: We believe in transparency both within our team and with our clients. This doesn't mean sharing private information, but rather creating and living a culture where we talk through thought processes, willingly share updates and news with each other and clients, and give insight as to where everything stands.
Honesty: We value input and feedback from our team members and regularly make changes or introduce new products or policies based on this information.
Integrity: If you make a mistake, bring it up to someone who can help you fix it rather than trying to hide it, thus making it worse. Don't cut corners to the detriment of others or yourself.
Perks & Benefits
Generous Paid Time Off
Start off with 2 weeks PTO, 10 holidays, plus 5 "personal days" - use those for mental health, moving, or whatever your heart desires.
Located in Uptown
Or not. Some of our team comes in several times a week, some only see our office on special occasions. But if you choose to come in, we're here!
Flex Friday Schedules
Work slightly longer days 4 days a week and get every other Friday (or Wednesday) off. Or some split the difference and work 1/2 days on Friday.
Free Beer and Coffee
Join us for an impromptu happy hour - or if you choose not to partake, we have some non-alcoholic options available too!
Working Sabbaticals
Take a month each year to work from wherever you want in the world. Stack your PTO to have more time to explore your chosen destination.
Sick & Wellness Leave
You get 6 days per year for sick leave, which includes time off for preventative and medical appointments such as physical therapy.
Dog Friendly Office
Bring your dog to the office with you! Our resident dog, Loxie, will show yours the ropes, including who is always willing to rub some puppy bellies.
Educational Opportunities
Interested in learning a new skill that can help you in your role? We'll pay for you to take classes or spend time doing some DIY learning via online courses.
Monthly Happy Hours
If you're local, join us each month for a group happy hour! We change the location often but also have a few favorite haunts. Appetizers included!
Healthcare Benefits
We'll cover 50% of yours plus your dependents' plans. Choose from basic "disaster-only" all the way up to premium plans.
Foosball Table & Darts
We know, it's so cliché. But we actually use it! If darts are more your thing, we have that, too. Oh, and our CEO's face is on it. (He's a good sport)
Paid Parental Leave
Recently welcomed a child into your family? No matter how they came to join you, we'll give you time to adjust and recover before you come back to work.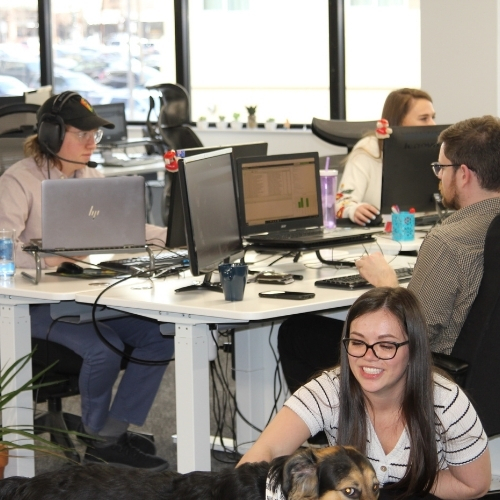 Join Team GDW
Are you looking for a career that challenges you and offers flexibility along with valuable perks? We are always seeking new talent! If you have a strong work ethic, a creative mind, and you enjoy collaboration, you might be the next Great Dental Websites team member. Our current job openings are listed below.
Don't see what you're looking for?